person_of_interest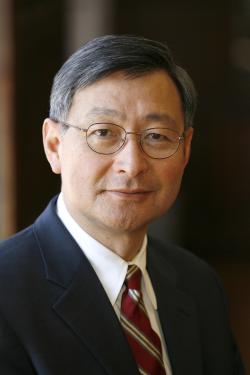 Hai-Lung Dai is provost and senior vice president for academic affairs, Laura H. Carnell Professor of Chemistry, and senior vice provost for international affairs at Temple.
A graduate of National Taiwan University, he holds a Ph.D. from the University of California at Berkeley, and was a postdoctoral fellow at the Massachusetts Institute of Technology. In 1984 he joined as faculty at the University of Pennsylvania where he was chair of the chemistry department, funding director of the Penn Science Teacher Institute, and the Hirschmann-Makineni Professor of Chemistry. In 2007, he assumed his current positions at Temple University.
His tenure as dean of the College of Science and Technology since 2007 has been characterized by a major influx of world renowned faculty, almost tripling the research funding and new cutting-edge instruments, vastly improving facilities including a new research and education building, and initiating transformative changes in education and services for students. New educational initiatives include revised curricula, research opportunities for undergraduates, a research-focused financial aid program, student career services, and the establishment of the TUteach program -- a fundamentally new approach to educate high school math and science teachers.
As senior vice provost for international affairs, Dai oversees Education Abroad, which manages study abroad and Temple's overseas campus in Tokyo and Rome; International Programs, which facilitates and manages partnerships with foreign institutions and collaborative educational programs; International Students and Scholars Services; and International Student Recruiting and Admission. Under his leadership, Temple has created new dual bachelor's-master's degree and collaborative bachelor degree programs for international students with partner universities in Asia and a liaison office in Beijing coordinating collaborative programs and student recruiting; vastly expanded Temple's partnerships all over the world; seen dramatic increase in number of international students; and raised awareness of globalization within Temple's campus.
Dai is an active, funded researcher in molecular and surface sciences. He has published 160 articles, edited two books and five journal volumes and delivered more than 280 invited lectures and seminars in international and national meetings, research institutions and universities. He has received numerous honors including a Dreyfus Foundation Teacher-Scholar Award, a Sloan Fellowship, a Guggenheim Fellowship, a Humboldt Fellowship from Germany, the Coblentz Prize in Molecular Spectroscopy, the Ellis Lippincott Award for Spectroscopy of the Optical Society of America, the Langmuir Lecturer Award in Colloid and Surface Chemistry of the American Chemical Society, the American Chemical Society Philadelphia Section Award, the Distinguished Achievement Award from the Institute of Chinese Engineers in the US, and several named lectureships from China, Japan, and the US. He is a fellow of the American Chemical Society and the American Physical Society and served as the Chair of the APS Chemical Physics Division.
In addition to a gubernatorial appointment in the Pennsylvania State Board on Drug, Device and Cosmetic, Dai has served in and advised government agencies, professional societies, universities and research institutions in the U.S. as well as abroad. He is the former conductor of Philadelphia's Chinese Musical Voices Choir and has conducted several orchestral concerts in the Philadelphia symphony hall.