Owls inducted into Rock and Roll Hall of Fame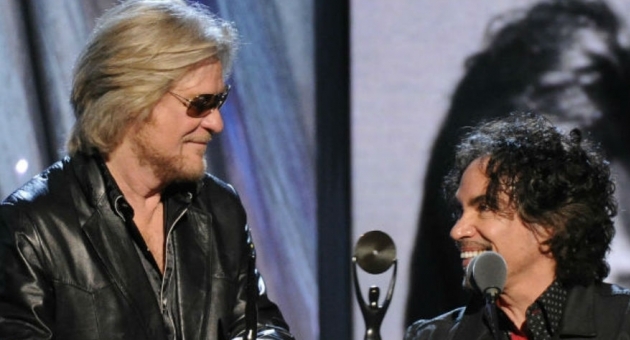 Charles Sykes/Invision/AP
On Thursday, April 10, former Owls Daryl Hall and John Oates were inducted into the Rock and Roll Hall of Fame as a part of a class that included Peter Gabriel, KISS, Nirvana and Bruce Springsteen's E Street Band. The two were inducted by Ahmir "Questlove" Thompson, the acclaimed drummer for another Philadelphia musical institution—The Roots.
Over the course of their career—which spans more than 40 years—Hall and Oates recorded six No. 1 hits and had 34 songs make the Billboard Top 100. The two met in 1967 while performing with their respective bands at the Adelphi Ballroom in West Philadelphia. Each learned the other was enrolled at Temple, and a friendship formed quickly. Hall and Oates was inspired by Philadelphia's renowned soul-music scene to find their own sound—a blend of funk, soul and rock. After landing a record deal with Atlantic in 1972, they went on to record hit songs including "Sara Smile" and "She's Gone" in the mid-1970s.
Drawing on the new-wave and dance music of the 1980s, Hall and Oates released some of their most popular songs in the early part of that decade, including "Kiss On My List," "Private Eyes," "You Make My Dreams" and "I Can't Go For That." They continue to tour and record, and in March, Oates released the album Good Road to Follow, and Hall has starred in the web series Live from Daryl's House since 2007.
Both men returned to Main Campus in 2011. Hall performed in the Liacouras Center during Alumni Weekend, and Oates spoke and performed in the Temple Performing Arts Center at an event sponsored by the Philadelphia chapter of the Recording Academy, and the School of Media and Communication.
This year's Rock and Roll Hall of Fame inductees were chosen by more than 700 Rock and Roll Hall of Fame Foundation voters. Artists are eligible for inclusion 25 years after the release of their first recording. The ceremony will be broadcast on HBO May 31.