Aaron Troisi: Hip-hop educator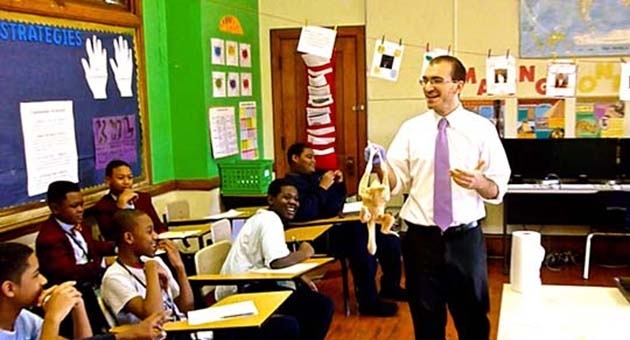 By day, Aaron Troisi works as the instructional technology teacher at Southwest Leadership Academy Charter School in the Elmwood section of Philadelphia. Like many graduate students of education in their first classrooms, he is enthusiastic about his craft, dedicated to his students and eager to implement the theories he has learned now that he has his own classroom.
But off the clock, Troisi swaps out his loafers for a pair of Adidas sneakers. Then, he is transformed into Professor Peabody, the educational director of Hip Hop Fundamentals, a dynamic troupe that uses hip-hop music and breakdancing to connect with students in lower-income communities.
"I love being an educator, and I love finding creative ways to engage people in the learning process," Troisi said.
Hip Hop Fundamentals has appeared in school assemblies and youth camps across the region, bringing topics such as physics, anti-bullying and the civil rights movement to life.
As the troupe garnered the attention of local press, Troisi and his two cohorts were invited to give a TEDx talk in Bermuda last year. "It was an incredible experience, especially for us—not only to travel and be a part of this incredible event, but it was also a wonderful opportunity for us to reach out to a whole new community."
Participating in the TEDx event has only strengthened his commitment to affect his students' lives positively. "I have a passion for working with young people, a passion for education, and I strive to empower young people."
He credits Temple with giving him the tools to emerge as a positive influence. "To use a hip-hop phrase, I'm 'repping' Temple," he laughed. "I would hope that my continued success in the city will help support and build the Temple community."
After graduation, Troisi will continue working at Southwest Leadership Academy Charter School and breakdancing his way into young hearts and minds.
- Anna Goldfarb, SMC '08