Han Lee: Acclimating athletes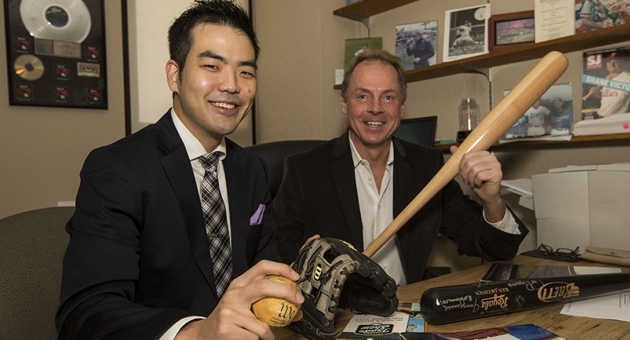 During the 2013 baseball season, approximately 60 players from Asian countries competed in Major League Baseball (MLB) and its farm systems. Often, those players face unique challenges associated with moving to the U.S. In addition to learning a new language and acclimating to unfamiliar foods and climates, they must learn the differences in traveling distances, training schedules and practice regimens, how to weather media expectations, and become familiar with the design of U.S. baseballs and stadiums.
A new company founded by Han Lee, Practice Professor of Law Ken Jacobsen and former Temple professor N. Jeremi Duru aims to ease that dramatic change.
Lee—who came to the U.S. at 15 as an exchange student—approached Duru for suggestions about how he might pursue a career in the sports industry. Duru told him to consider what strengths and skills he could bring to the field. Lee thought of his own experiences after coming to the U.S. and realized Asian players faced similar challenges.
Duru and Lee then met with Jacobsen—co-owner of the Wilmington Blue Rocks, a single "A" affiliate team of the Kansas City Royals—and shared his expertise. After a few months of brainstorming and meeting some of Jacobsen's contacts, the idea for Global Sporting Integration (GSI) was born. The company launched in June 2013 with Lee as CEO.
Unlike a sports agency, GSI seeks to work directly with MLB and its clubs to ease the change for Asian players. The firm's programming includes pre-departure preparation, English-language education, nutritional consulting, cultural immersion and more. Those initiatives begin in the player's home countries and guide them through their moves.
"When an MLB team signs a player from Asia, the team is not simply adding a new member to its roster—it is bringing a person to start a new life in a foreign environment," Lee explained. "The challenges of transitioning to professional baseball players in America also are ongoing challenges for the MLB and have cost many promising players their careers, resulting in large financial losses for both the players and their clubs."
After graduation, Lee will take the bar exam in July. He is looking forward to being able to focus on GSI full time.
- Renee Cree, SMC '12