Bill Cosby honored for his writing skills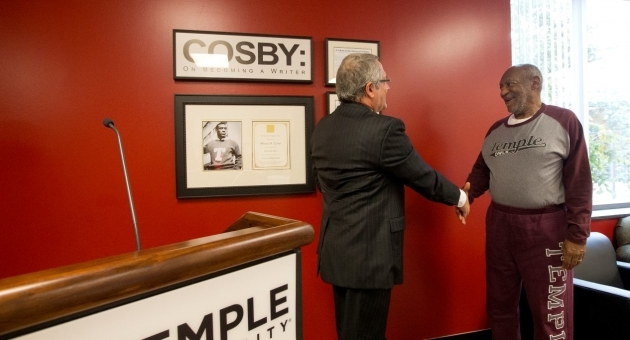 Just before he wowed new students at Convocation and started a global trend on Twitter, alumnus and trustee William H. Cosby Jr. was honored last week for a skill he honed at Temple—one that has allowed Cosby to keep audiences laughing for decades: his writing.
In an intimate ceremony in Temple's Writing Center, students and administrators celebrated Cosby's induction into the Writers Guild of America, West, for his work on The Cosby Show. The hit sitcom, on which Cosby served as writer and star, was recognized as one of the 101 best-written TV shows of all time.
As part of the ceremony, Cosby and Temple President Neil Theobald unveiled a plaque on the Writing Center's wall. The plaque contains a framed award from the Writers Guild, as well as an 1,100-word essay from Cosby titled "A Tribute to the Unknown Professor (or The Story of A Late Bloomer in Remedial Creative Writing)."
In the moving essay, Cosby describes a freshman writing course he took at Temple. The instructor, whose name Cosby can no longer recall, was so impressed with one of Cosby's assignments that he told the entire class, "This is the kind of writing I am looking for."
"This experience lifted me," Cosby recalls in the essay. "It showed me that I had something to say, and that I could make a connection with people."
Cosby continued to develop and find success with his writing at Temple before he embarked on the comedy career that has led him to international fame.
During the ceremony, Juwan Z. Bennett, CLA '13, now enrolled in the PhD program in Temple's Department of Criminal Justice, talked about how Temple has helped him strengthen his own writing.
"It was in the Writing Center where I worked with tutors to develop my writing skills and find my voice as a writer," he said. "It was right here in the Writing Center where advisors assisted me in applying to PhD programs, and I was accepted into every school I applied to."
Bennett, who grew up in South Philadelphia, was just 20 when he received his bachelor's degree in criminal justice last year. He is one of the youngest PhD students in the criminal justice department.
"I may not have created a number one TV show yet," he said. "but I've also been inspired by Temple's professors, by Temple's programs and by Temple's mission."
That sentiment was shared by Cosby later in the day when he gave a highly engaging and entertaining speech in the Liacouras Center to the incoming Class of 2018.
The audience of more than 4,500 freshmen and new transfer students erupted in applause as soon as Cosby appeared on stage.
Cosby's Convocation remarks were so popular, in fact, that Bill Cosby trended worldwide on Twitter. In addition, #Temple2018 trended nationally.
"I've stayed with Temple because it has supported me," Cosby said. "Certainly I love it, and I support it."