Announcement on campus safety and security
In light of tragic events in Boston, Senior Vice President James Creedon addresses measures university officials are taking to protect the safety of the Temple community, and steps individuals can take to stay safe.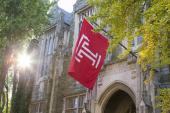 TU Advisory: Graffiti message in Gladfelter Hall men's room
Temple Police have issued a TU Advisory regarding an investigation into a graffiti message found in the men's room stall of Gladfelter Hall in March.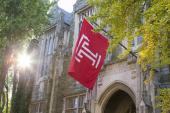 TU Advisory: Fires at Morgan Hall construction site
A series of fires were set at the Morgan Hall construction site on February 11 and 12. The fires involved construction debris and were not serious. No one was injured and construction continues on the site as scheduled. Federal and city authorities are investigating the incidents, which have been limited to the work site and pose no threat to the Temple community.
TU Advisory: Jan. 3 robbery west of Health Sciences campus
Temple University Police have issued an advisory regarding a robbery with a gun involving a Temple student and an employee Thursday, Jan. 3, at 5:50 p.m. outside 1426 W. Venango Street, west of the Health Sciences campus.
Winter Break reminders for students
Campus Safety offers security tips for students leaving non-campus residences and those staying on campus during winter break.