Lindback winner Denise Salerno looks for "light-bulb" moment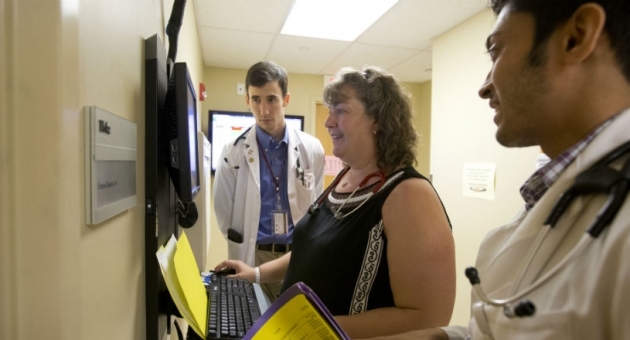 As a young doctor, Denise Salerno was asked to come to Temple to build a pediatric practice, after one had not existed at the school for nearly 40 years. "It was eye-opening," Salerno said. "[My colleagues and I] had to educate the hospital staff on the unique needs of the pediatric population, because they weren't used to dealing with children. Kids aren't small adults; doctors and nurses need to be able to address their unique problems."
More than 18 years later, the pediatric practice at Temple Hospital is still going strong, and Salerno—professor of clinical pediatrics at the medical school—is helping to educate a new generation of doctors who can address the needs of Temple's diverse patient population.
As the associate director of the Doctoring course for first- and second-year medical students, Salerno helps lay the framework for a successful medical education, teaching budding doctors how to take a patient's medical history, how to interview them for potential ailments and how to perform a physical exam. Salerno also serves as the pediatric clerkship director and in that role, she works directly with medical students in the hospital and outpatient setting. She spends the remainder of her time mentoring students, giving lectures and providing patient care.
"I think it's a privilege to teach the next generation of medical students," she said. "It's really exciting when students are excited about seeing things from their basic science classes put in practice in the clinical setting, when that light bulb goes off."
Salerno, a recipient of this year's Christian R. and Mary F. Lindback Foundation Award for Distinguished Teaching, strives to make that light bulb moment happen for each of her students. "Learning how to better interact with patients, how to improve physical exam skills, or how to advocate for a patient are just as important as learning about illnesses and how to treat them," she said. "When I have multiple level learners working with me, I try to encourage them to learn from each other."
For Salerno's students, her approach to education makes an impact consistently. "Throughout my four years at Temple, Dr. Salerno has stood out as one of the most influential, caring and committed educators from whom I have had the privilege of learning," said fourth-year medical student Hillary Aaron. "Through her accessibility and willingness to listen, Dr. Salerno helped me develop my clinical style, define my career goals and balance professional and personal pursuits," noted third-year student Megan Algeo.
As an educator, Salerno defines success as ensuring that her students enjoy their rotations as much as she enjoys teaching them. "It's what makes my career so rewarding," she said. "I could go see patients and practice medicine anywhere. But it's the excitement of passing on knowledge and getting students excited about the field of medicine that makes coming to work every day a pleasure."