Posted
September 30, 2020
Prominent trans advocate brings talents to Temple
New student Kendall Stephens transferred to the university from the Community College of Philadelphia. At Temple, she plans to continue to empower the LGBTQIA+ community and allies the same way she did at CCP.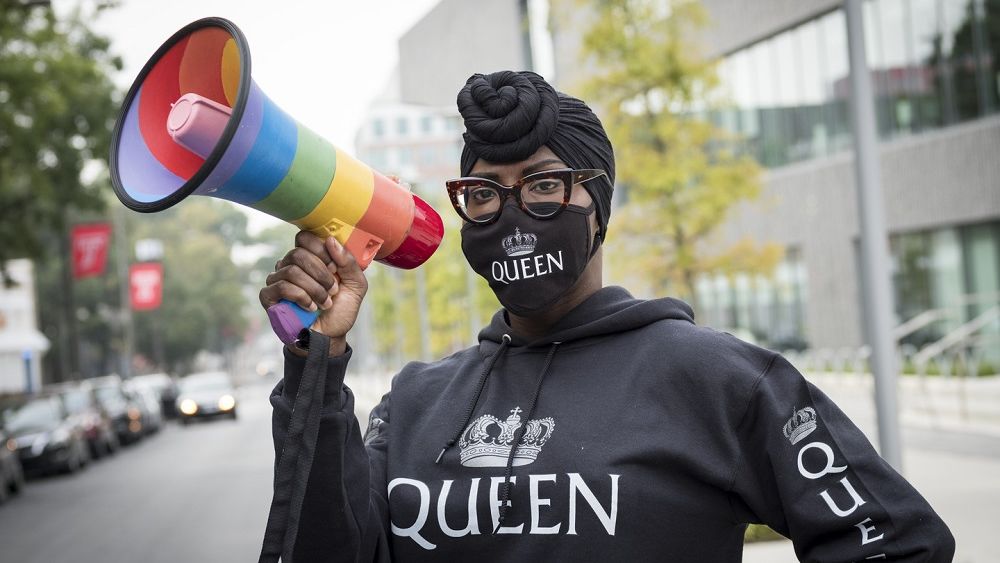 The first day of classes for the fall semester marked the official beginning of Kendall Stephens' Temple career as a student in the School of Social Work. It's the same day that she was attacked outside of her own home. 
Stephens, Class of 2021, is a Black trans woman and this type of violence, as horrific as it is, is all too familiar for her and her community.
"This is why I advocate so stringently for the trans community, because if I don't, we all remain at risk," said Stephens. 
"I'm in the business of educating people on how to treat each other better," she said. "I'm also in the unlearning business, how do we unlearn behavior? No one was born a bigot." 
That's her charge, what she advocates so tirelessly for: ending the hate that violently impacts the LGBTQIA+ community, specifically trans people of color. 

She's worked extensively with the William Way LGBT Center's transgender support group TransWay as well as the Morris Home, which is the only residential recovery program in the country serving the trans community. At the Community College of Philadelphia, where Stephens earned an associate degree in behavioral health and human services, she did an enormous amount of progressive work to move the school's LGBTQIA+ community forward. 
"If you want to affirm people, they have to see themselves in that affirmation," said Stephens. 
At CCP, she worked to establish the first-ever LGBTQIA+ course, educated faculty and staff about pronoun usage, developed relationships with allies, and more. 

"If I have the opportunity to shine, I will. People were finding their voice through mine and that was very powerful. If someone feels like they do not matter, then they see someone like me with a similar background, they connect. That connection ignites a flame inside of them—a flame of visibility. People would come up to me and say that I inspired them. I couldn't believe it! That was my goal, of course, but when people told me that I touched them … that's what building community is all about. It's about finding intersection with people who otherwise wouldn't be interested or willing or able to." 

Education has never failed me. The more I give to education, the more education blankets me with opportunity, respect, with a platform that I can rise from.
-- Kendall Stephens
She's left her mark at CCP and in Philadlephia: The Philadelphia Gay News recognized Stephens as one of its People of the Year 2020.
"I know that by going to Temple, I can bring that same spirit and leadership to the campus community," said Stephens. "I'm hoping to repeat a lot of work—continuing my advocacy work and continuing to empower the intersectionality that's happening on Temple's campus. We can do more." 
Recognizing and connecting with LGBTQIA+ allies has been a critical part of Stephen's work and something she wants to continue at Temple. 
She said that we must meet people where they are, pointing out that trans people, especially trans people of color, often live at or below the poverty line. That means more than just not being able to afford college tuition—it often means experiencing homelessness, which Stephens faced herself for 10 years. 
"Trans people are often left on the outskirts of society to fend for ourselves with very little. I know so many trans people who are ready to get to school who are shut out," she said. 
For Stephens, education has been a form of protection. 
"I've had teachers and professors bring me out of despair. Education has never failed me. The more I give to education, the more education blankets me with opportunity, respect, with a platform that I can rise from."
And, she has big plans for her time at Temple. She wants the university to be known for its inclusionary practices on campus and for fully engaging in the trans experience. 
"I want Temple to be the beacon that people are looking at and taking notes from." 
 
After Kendall Stephens was attacked in August, she launched a GoFundMe to help with her recovery. She quickly exceeded her immediate goal of $5,000 and raised more than $35,000. She's donated more than half to the LGBTQIA+ community.