A Temple alumnus and legendary comic remembered for his roles on Full House and America's Funniest Home Videos, Saget will always be known as one of the all-time funniest Owls.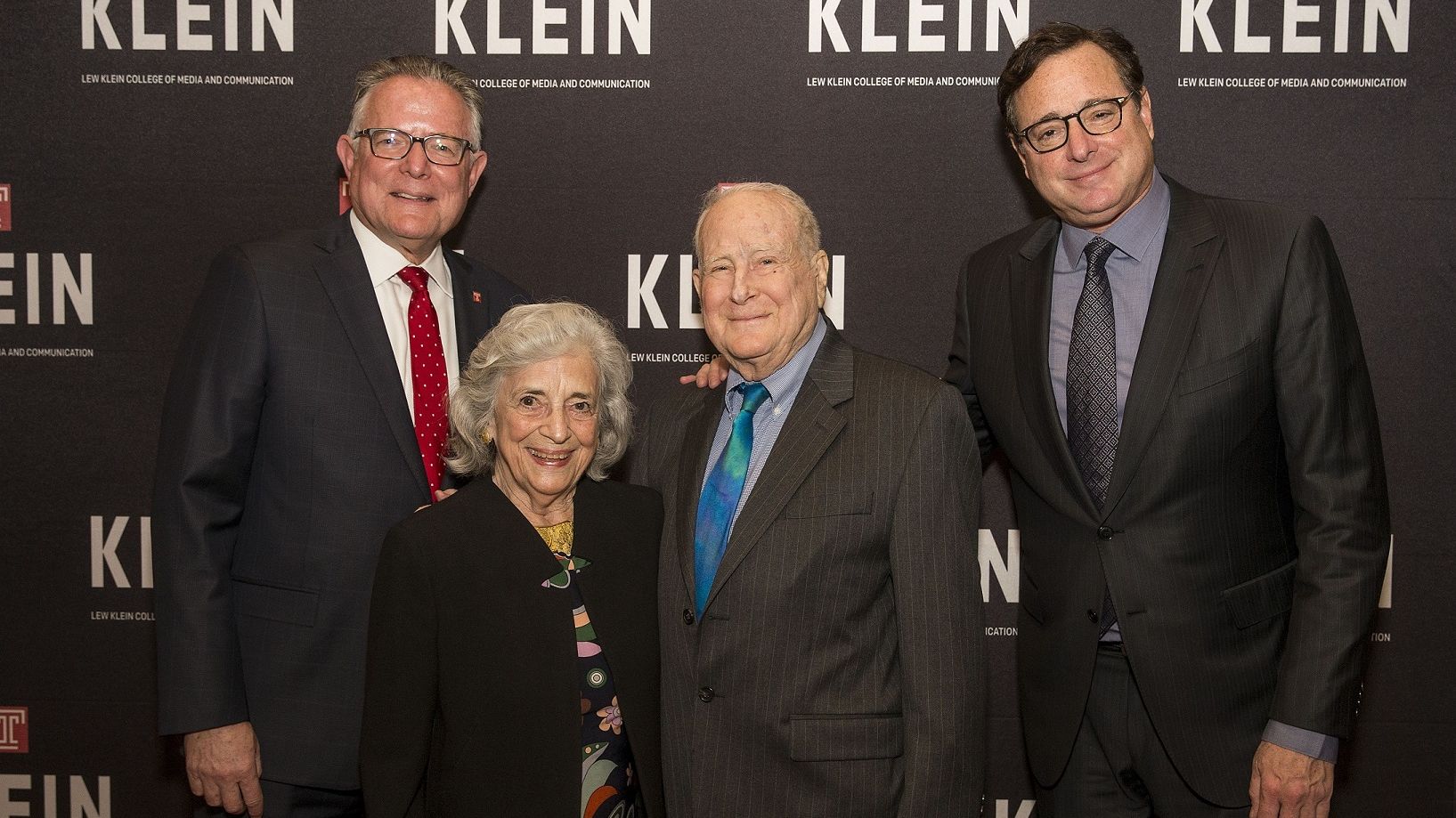 For eight seasons, Bob Saget, KLN '78, entertained families across the globe while playing the iconic role of Danny Tanner, the do-it-all, single father who became known as "America's Dad" in the hit television show Full House.
A gifted comic and performer, Saget's legacy and impact on the entertainment industry will be felt for years to come. The Philadelphia native, who passed away unexpectedly on Jan. 9, will always be remembered as one of Temple's all-time funniest Owls. 
"Talk to anyone who grew up watching TV in the 1990s and they will tell you what Bob Saget meant to their childhood," said Dr. Jason Wingard, president of Temple University. "He rose to become a household name, but he never lost sight of where he came from. He was an Owl through and through, and the entire Temple University community mourns the loss of such a talented artist."
Saget graduated from Temple in 1978 from what is now known as the Lew Klein College of Media and Communication, and he credited television pioneer Lew Klein, who taught at Temple for 67 years, with getting him into the entertainment business.
"Bob had a deep and genuine connection to our college as well as to Lew Klein, for whom we are named," said David Boardman, dean of Klein College. "In fact, Bob took the time out of his busy schedule to emcee the college's 2017 naming celebration in Lew's honor. Over the more than four decades since he attended Temple, Bob stayed tightly connected to Lew and his wife, Janet, as he always credited Lew with launching the career for which he leaves his legacy."
During the naming ceremony in 2017, an emotional Saget addressed Klein and let him know just how much he valued the role he played in his life. "You have helped so many people and many of them are known and many of them are off in a career in production or whatever," Saget said to Klein at the time. "But you are a conduit for a world of talent and you deserve so much." He also declared that he was going to rename Philadelphia "Lewadelphia" and Pennsylvania "Kleinsylvania." 
While Saget is remembered for his comedic prowess, he was also a gifted filmmaker. During his last year at Temple, Saget, who studied film, received a student Academy Award for documentary merit for his film Through Adam's Eyes.
"Saget is emblematic of the kind of driven and talented student that comes out of our programs," said School of Theater, Film and Media Arts Dean and Vice Provost Robert Stroker. "With a 1978 student Academy Award for a touching documentary, he went on to an incredibly successful career in comedy. In both arenas, he showed the brilliance and passion that are trademark Temple characteristics."
Another generation became familiar with Saget's historic Danny Tanner character in recent years when he reprised the role on Fuller House, a Netflix revival of the classic 1990s sitcom. The show ran for five seasons, ending in 2020.
Saget's voice arguably had an equally large impact on the entertainment industry. From 1989 to 1997, he served as host of America's Funniest Home Videos, where he provided fun, quirky voiceovers for all of the viewer-submitted videos. He also narrated How I Met Your Mother during its entire nine-season run.
A truly brilliant comedian and actor, Saget will be deeply missed. Temple University extends its condolences and sympathies to those closest to Saget, especially his daughters Aubrey, Lara and Jennifer and his wife, Kelly Rizzo.