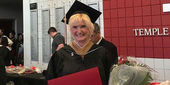 After 17 years, longtime staffer earns degree
Connie Presser balanced the demands of classes, working full-time and raising a family.
Perseverance conquers: Staff member earns degree after 14 years of hard work
Between working full-time in the Office of the Vice Provost for Faculty Affairs and juggling the demands of life, Evy Lopez-Feliciano pushed through. Now, she can call herself a Temple graduate.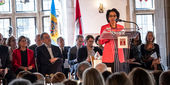 Faculty members earn accolades for teaching, research, creative excellence
The annual Faculty Teaching, Research and Creative Awards honored faculty across disciplines, including in English, dance, medicine and pharmacy.