Charles Library shapes the future at Temple and beyond
Temple's highly anticipated Charles Library will stand out among university libraries and transform the landscape of the university, providing unique spaces for learning and collaboration.
Video Production:
Gina Poulos
Charles Library will change the landscape of Temple University—more than just physically—for years to come. Its vast technological improvements, prioritization of space, and attention to the needs of modern life and learning place it firmly as a cutting-edge library of the 21st century. The elements that set Charles Library apart will undoubtedly change in accordance with the minds that navigate it, but here are some reasons why the building is primed for greatness. 
DESIGN
Charles Library is a product of the renowned international design firm, Snøhetta, noted for creating buildings that intelligently engage their communities, such as the Bibliotheca Alexandrina in Egypt, the Central Library of Calgary Public Library in Alberta, Canada and the redesigned Pavilion at the National September 11 Memorial and Museum in New York City.
Every aspect of Temple's state-of-the-art library is filled with metaphors that speak to its significant role on campus.
"It will put Temple's campus on the map as far as architecturally significant campuses. The new library holds a prominent position, but it does so without being a dominating element," said Seher Erdogan Ford, assistant professor of architecture in the Tyler School of Art and Architecture. "It is a neighborly gesture, because even though it is situated in the middle of the campus, it provides an inviting public face to the surrounding area. In that sense, I see it as a very successful addition to the campus architecture, and I think it will change the character of Temple's Main Campus in a very positive way."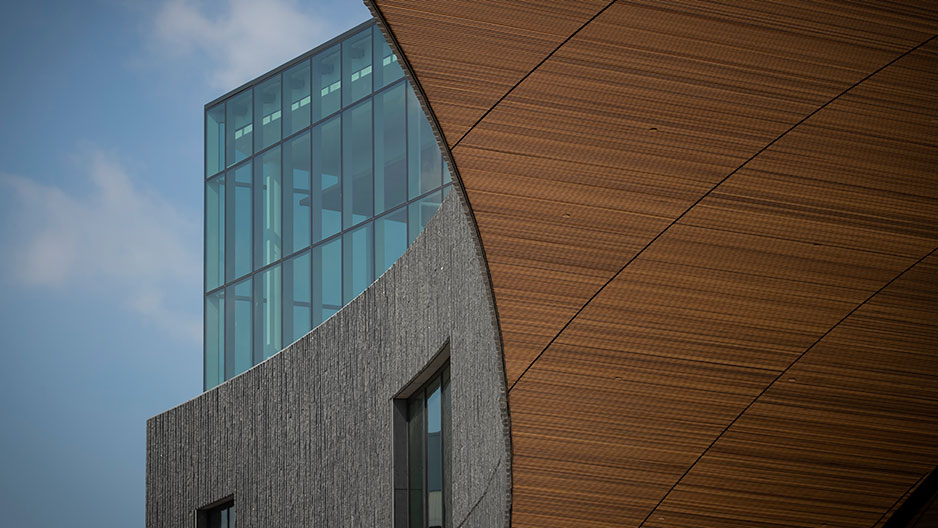 Charles Library's exterior detailing features glass, granite and wood. (PHOTO: Betsy Manning)
Neighboring Temple's iconic Bell Tower, Charles' location alone acts as a modern-day public square at the heart of Main Campus. The library sits at the center, with arts, communications and music buildings to the north, the business school to the south, the science and engineering institutions to the east, and Broad Street, a vital artery to the City of Philadelphia, to the west.
This geographical strategy anchors Charles Library at the intersection point of Temple's myriad critical communities that create the broader university family. It's a uniquely neutral space that doesn't belong to anyone, while simultaneously belonging to everyone. It's a point where all of Temple's various disciplines collide to collectively solve the problems of the individual and the world. 
"One of the concepts that they [Snøhetta's architects] think through is the concept of library as stoa," said Kate Wingert-Playdon, associate dean of architecture and environmental design, who is chronicling Charles' concept and design in a book. "Stoa is a Greek concept, a place of interaction. So it works so well with this concept of the library as we move into the 21st century, where no longer are libraries places to store books, but places of action and many kinds of creative activities."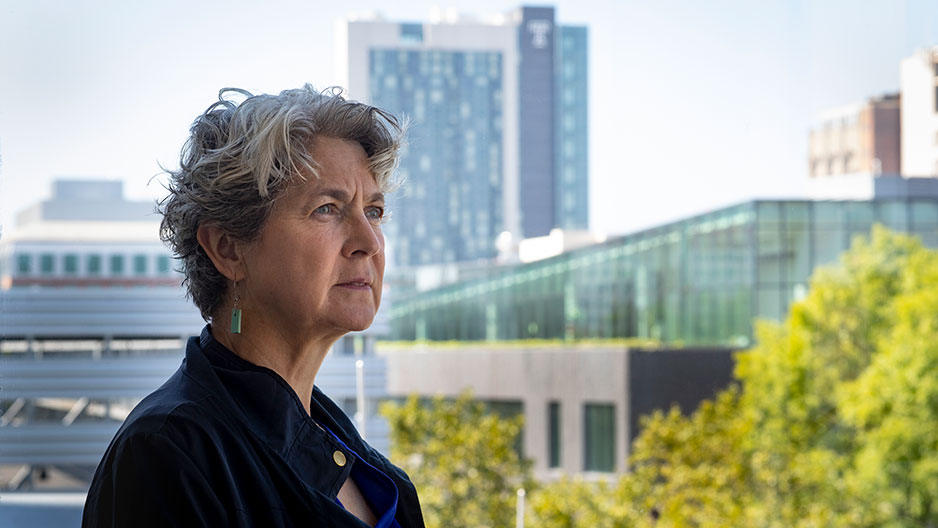 Associate Dean of Architecture and Environmental Design Kate Wingert-Playdon is chronicling Charles Library's concept and design in a book. In this photo, Charles Library's glass-enclosed fourth floor and green roof can be seen behind Wingert-Playdon. (PHOTO: Ryan S. Brandenberg)
For Temple, this is a new level of design. It's a "modern building that has the characteristic of handcraft in it," said Joe Lucia, dean of Temple Libraries.
The building's materials mimic and complement the surrounding environment. The stone façade echoes those of Sullivan and Mitten halls, and acts as a stark contrast to the warm, handcrafted wood interior. The height of the building remains constant with those of its peers, so as not to overshadow, and the glass exterior subtly reflects the surrounding environment while allowing light to permeate every inch inside.
Natural light is a constant throughout the space, flowing in through the perimeter of windows and the center oculus that connects all four floors. Light serves as a metaphor for knowledge as it pours in through the oculus, on to the fourth-floor browsing stacks, downward toward each open level and finally, to the first-floor entryway that greets everyone who enters.
"The main entrance with the oculus and the arches is inviting, but it's also aspirational," Wingert-Playdon said. "It represents an optimistic view of the university and of the future of the university."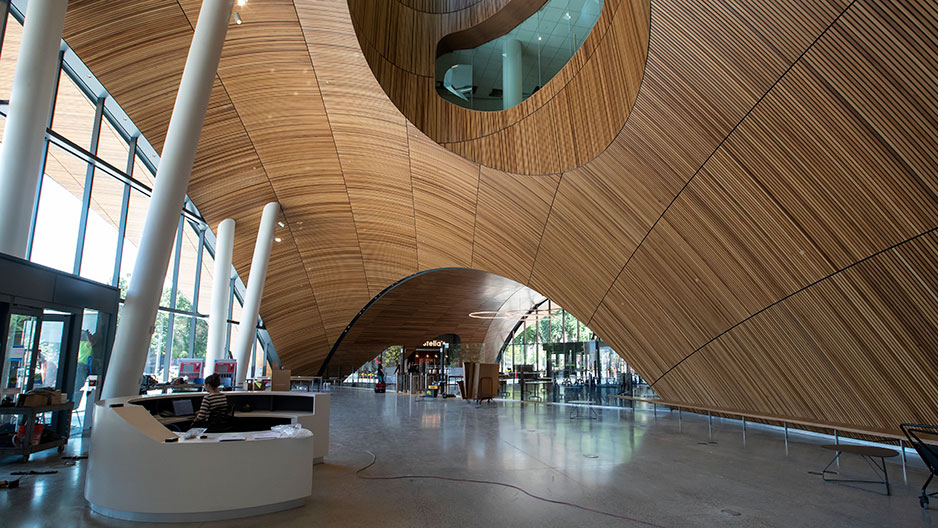 The first floor of Charles library, with the oculus shown above (PHOTO: Betsy Manning)

HISTORY
Libraries in the classical world acted as repositories for physical materials, most often books, and provided space for social discourse, information sharing and expanded thought. They were places people went to retrieve information and find answers to questions beyond their means or field of expertise.
This concept still rings true today and is the foundation on which Charles Library is built—literally.
Charles Library sits atop a high-density robotic Automated Storage and Retrieval System (ASRS), lovingly nicknamed the BookBot, that houses 85 percent of the books previously held at Paley. The other 15 percent of the books will remain in the fourth-floor stacks as a rotating browsing section.
"This is a system that's employed by many different retailers including Amazon, American Airlines, Federal Express, as well as several libraries in the United States and around the world," said Justin Hill, Temple Libraries' head of access and media services. "We decided to implement something like this in order to maximize the space within Charles and to not have it be a simple warehousing model as libraries are traditionally thought of."
Hill and fellow Temple Libraries staffers worked over the course of the summer months to load books into the ASRS, which includes 1.5 million volumes.
It's a real statement about what we think a library is in an increasingly digital world, an increasingly interdisciplinary world, an interconnected world, but a world where the tactile object still matters for people."
-- Joe Lucia, dean of libraries
People have a connection to physical objects and enjoy the feeling of holding a physical book. This fact has driven the decision in designing the building to keep the print volumes, but in a reduced footprint that allows for more space for collaborative efforts. Roughly 200,000 volumes will still be contained in traditional browsable stacks on the fourth floor. Hill said this collection was carefully curated to include new acquisitions, high-circulation items, and items that lend themselves to browsing, like music and art materials. 
"It's a real statement about what we think a library is in an increasingly digital world, an increasingly interdisciplinary world, an interconnected world, but a world where the tactile object still matters for people," Lucia said. "The library is both a space to experiment and explore technology, but it's also a space to connect with the traditional modes of knowledge captured on paper and physical records. There's this really interesting intersection of all these different purposes and missions."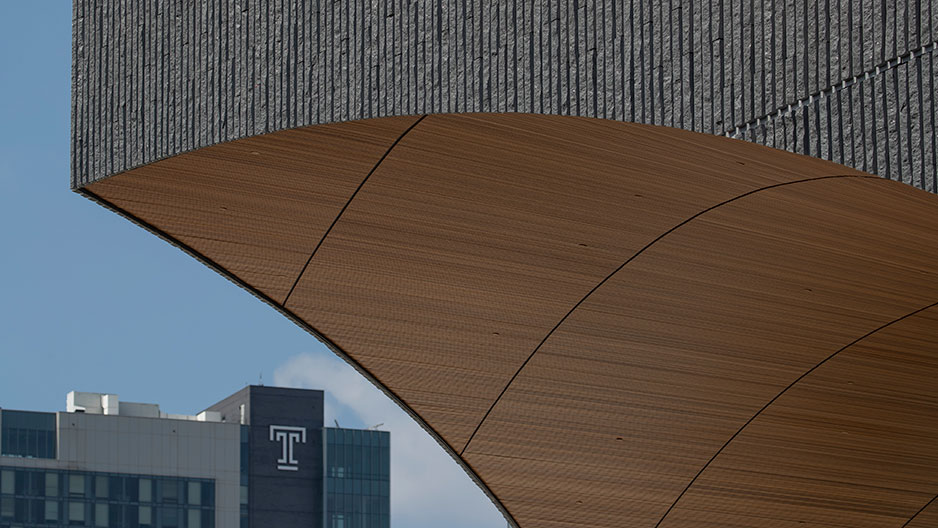 Charles Library's granite and wood detailing is seen in the foreground, with Mitchell and Hilarie Morgan Hall in the background (PHOTO: Betsy Manning)
 
SPACES
Thanks to the BookBot, Charles Library has 60 percent to 70 percent more user-facing space than its predecessor, Paley Library, which will transform into Paley Hall and house the College of Public Health in its new iteration.
Room for collaboration and community-building spaces were critical when designing this library, because the modern student works and learns in a variety of ways.
"We looked at the way contemporary students want to work. The learning and study behaviors of 21st century undergraduates are not always similar to traditional, kind of quiet individual study practices that you might associate with a library," Lucia explained. 
In its 220,000 square feet of space, Charles boasts 40 meeting and seminar consultation rooms of various sizes and types, and includes roughly 1,600 seats for students in various configurations. All rooms are equipped with display technology and screencasting to make it easy for users to share what's on their phones or computers. These meeting spaces, classrooms and study environments are designed to provide an interactive learning experience that can be customized to fit the needs and preferences of each user.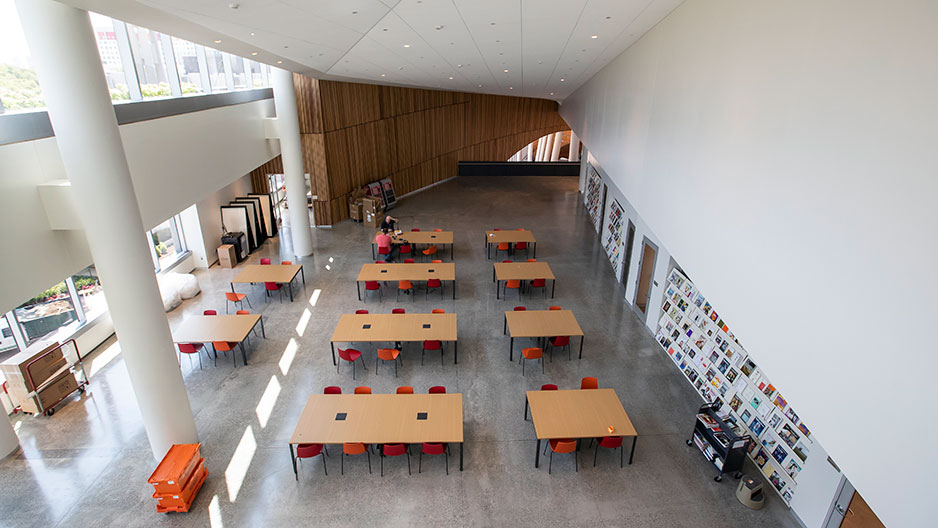 Study space on an upper floor (PHOTO: Betsy Manning)
The spaces are thoughtfully designed to foster conversation and encourage interdisciplinary collaboration, as well as to facilitate less traditional forms of learning and research. 
"These spaces speak to both environmental and social justice in new ways," said Carol Brandt, an associate professor in the College of Education who studies alternative learning spaces. "We're always looking at ways to make learning more equitable, and I think this kind of space can do that. We're also interested in breaking down disciplinary boundaries and really trying to work on problems that have pressing environmental, social and economic dimensions that need to be explored in new and different ways."
Brandt said she already has plans to bring both her undergraduate and graduate classes to the library to utilize the digital scholarship tools it offers.
Another faculty member particularly excited about Charles opening is evolutionary genomicist Rob Kulathinal, an associate professor of biology who joined Temple from Harvard nine years ago. Kulathinal is a co-founder of the interdisciplinary Science Studies Network, which brings faculty from various disciplines together to discuss their research and to think of new ways to solve problems
"Charles Library will provide a unique interdisciplinary venue for different faculty with different ideas, different epistemologies and different ways of teaching students to engage with each other," Kulathinal said. "I think that's going to be the biggest strength of this library, creating a focal area for faculty and students to meet.
Charles' rich ecosystem of distinctive spaces also gives a home to the Student Success Center, which provides writing support and tutoring services, and the Special Collections Research Center's Urban Archives, which document the social, economic, political and physical development of the greater Philadelphia region throughout the 19th, 20th and 21st centuries.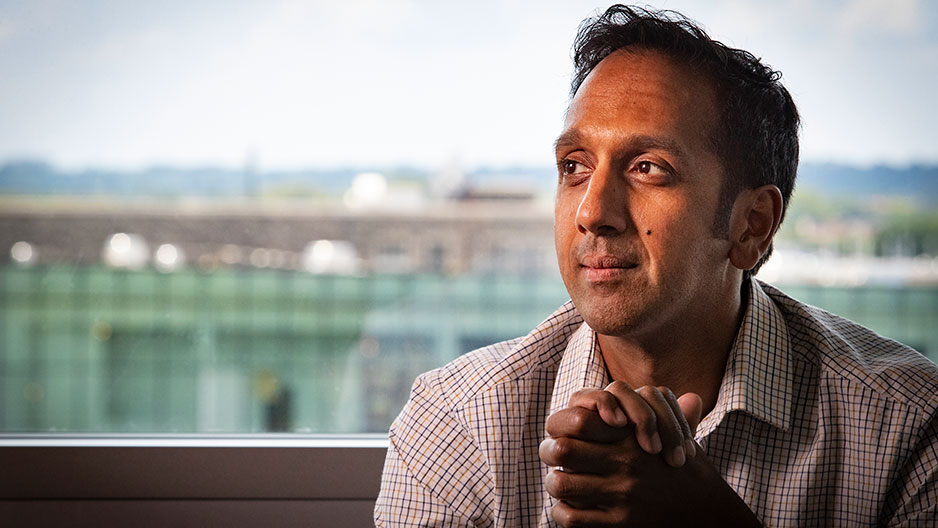 Associate Professor of Biology Rob Kulathinal looks forward to using Charles Library as a space to advance interdisciplinary conversation and collaboration. (PHOTO: Ryan S. Brandenberg)
The Digital Scholarship Center, located in the basement of Paley, will be reimagined as the Loretta C. Duckworth Scholars Studio. The Duckworth Scholars Studio will have new equipment and a prominent location on the third floor of Charles Library, which it will share with Temple University Press and the Student Success Center. The Duckworth Scholars Studio features high-end computing, a visualization and virtual reality studio, collaboration spaces, 3-D printing and media capture capabilities. This area will act as "sort of a technology petting zoo where you can come and look at new things and try them out," said Lucia.
These spaces are designed to provide an end-to-end support environment for the kind of learning and expressive work the modern student needs to undertake.
Above these spaces, a green roof—one of the largest in Pennsylvania—caps the building and serves as an informal gathering place. Below is an intricate stormwater management system, including permeable pavers. This feature, Wingert-Playdon points out, is key, particularly in Philadelphia, an aging city where stormwater management poses a perennial challenge. Charles Library also includes various other sustainability features and is aiming for LEED Gold certification.
For the Temple community as a whole, but especially for the Temple Libraries staff, the opening of Charles Library has been long anticipated. Experts across colleges, departments and schools agree that the library's addition to campus will shape the future of how learning and research happen at the university.
"There's this profound sense of anticipation and a real sense that we're on the threshold of something really exciting," Lucia said. "There's going to be a lot of energy unleashed into the environment when Charles opens."
A celebration of the opening of Charles Library is set to take place at 1 p.m. on Sept. 19. The event is free and open to the public. Learn more about the individual spaces and design elements of Charles Library. 
—Kate O'Brien