Off-campus living: 10 tips to be a good neighbor
The North Philadelphia neighborhood surrounding Temple University boasts a rich tradition of pride and history. And now that you live here, too, show your new home the respect it deserves with these 10 tips for being a good neighbor.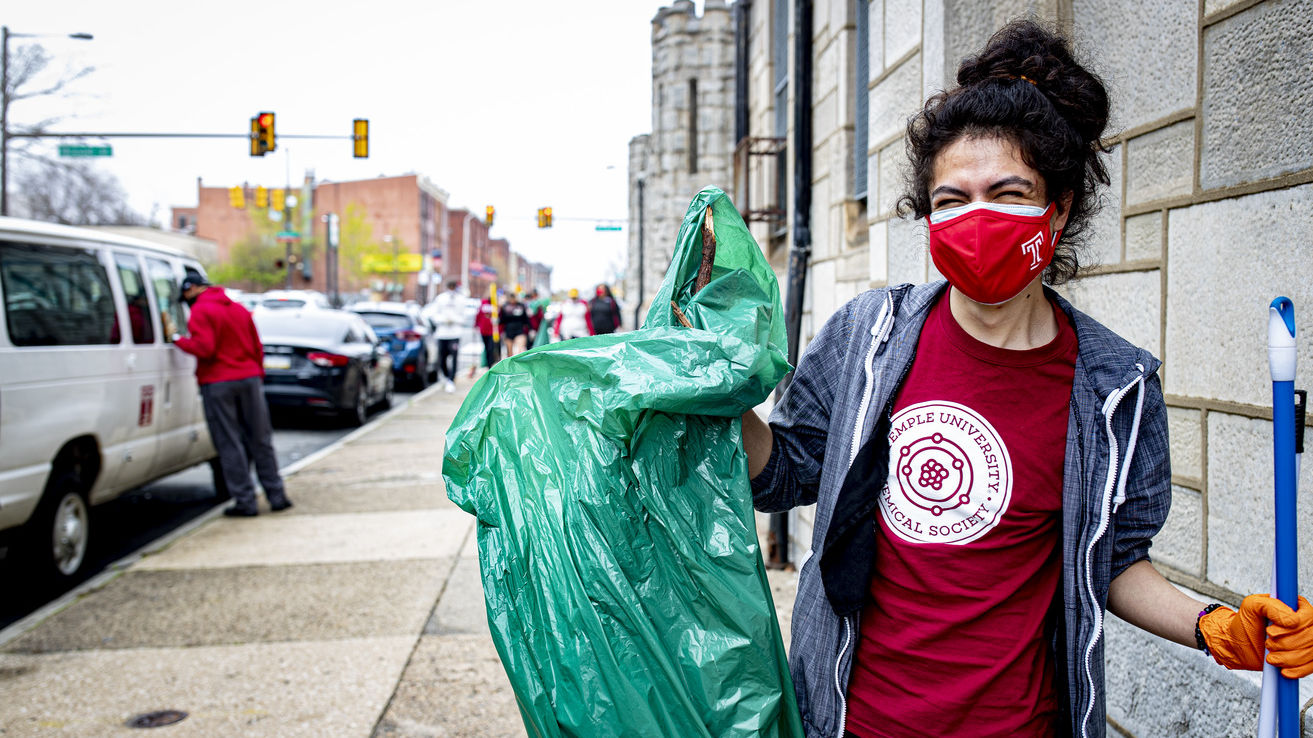 For many Temple students, North Philadelphia is a temporary place to live while in school, but for many of the local neighbors, it's a permanent home and a tightknit community.
That's why it's so important for students living near campus to be on their best behavior and remember that they are serving as the university's ambassadors.
The Good Neighbor Policy, part of Temple's Division of Student Affairs' Good Neighbor Initiative, encourages students to engage in proactive and intentional efforts to build connections and relationships with the residents of the communities of which they are now a part. 
The initiative establishes some basic guidelines for how Temple students should conduct themselves as responsible members of the community. It's meant to foster positive relationships with neighbors so that students feel integrated into this diverse community and make a positive contribution to it. 
With that in mind, we went right directly to the source and asked local community members for their ideas about how Temple students can be good neighbors. Here's what they told us. 
1. Knock on your neighbor's door and introduce yourself.
Recently moved in? Say hello and introduce yourself to your new neighbors. Many of your neighbors have been living in the same North Philadelphia homes for years and view the people who live on their blocks as family. Once you establish a relationship, you can be supported and treated as family by your neighbors, too.

2. Be mindful of mask-wearing etiquette.
Be considerate to your neighbors even when outside, and if you know you may be interacting with them closely, consider masking up to alleviate unnecessary anxiety and other health risks.

3. Be friendly and courteous. Say hello when passing in the street.
Your neighbors are people you are likely to see fairly often, so be friendly and courteous. Saying hello when passing in the street can help you gain familiarity with them and help you feel a part of and safer in the community. 

4. Find out if you have a block captain.
A block captain is someone who helps unite your neighbors and organize a vision for a clean and beautiful block. If you have questions or want to find out who your block captain is, call the Philadelphia More Beautiful Committee at 215-685-3971.

5. Ask older neighbors if they need help with anything.
There are many seniors whose families have lived in the neighborhood for generations and who continue to call it home. You can get involved in your community by asking your older neighbors if they need help with anything, such as shoveling snow. Just remember to wear your mask!

6. Think of the block as your own.
Show respect for the neighborhood that you are living in by treating it as if it were your hometown. Demonstrate common courtesy and help keep the neighborhood tidy by not letting flyers and junk mail pile up on your stoop, picking up after your pets, etc. 

7. Be mindful of your noise. 
Part of being a good neighbor is keeping noise at a reasonable level when you are indoors and out. Realize that there are families living nearby that go to work and school in the mornings, and be conscious of your (and your guest's) music or loud voices at all hours. 

8. Don't leave your trash lying around.
Do your best to keep your sidewalk tidy and free of trash. If you need help with the DOs and DON'Ts of trash collection and recycling, including the collection schedules, visit the Philadelphia Streets Department. 

9. Learn about the history of the neighborhood. 
North Philadelphia offers a number of historic sites that our neighbors take pride in and value. These include the Dox Trash House, the Church of Advocate, the Uptown Theater and the Wagner Free Institute of Science. Take some time to visit these sites to learn more of North Philly's storied past.  

10. Participate in university events and cleanups in the neighborhood.
Being active in the community by volunteering can go a long way with building trust and friendly relationships over time. Temple's Office of Community Relations and Office of Sustainability offer students a number of opportunities for engaging with and getting involved in the community. These include citywide cleanups, youth tutoring opportunities, and book, clothing, and food donation drives. 

Before you go, hear from our neighbors about what this community means to them.