A journey through photos: Charles Library rises
A university photographer and professor of architecture joined forces to detail the creation of Temple University's new Charles Library on the heart of Main Campus. Follow the transformation two years in the making through their photo gallery.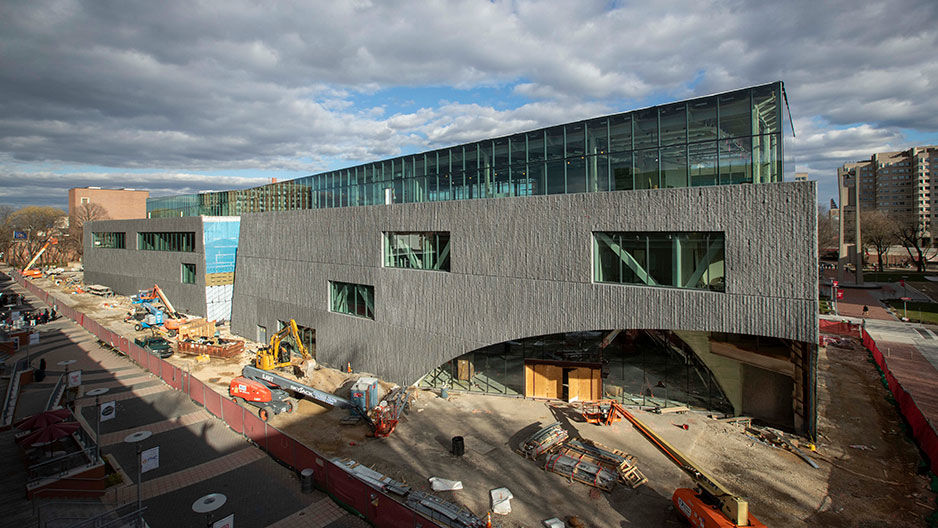 Betsy Manning, KLN '87, CLA '08, a photographer for the university for 15 years, has been documenting the construction of Charles Library and its transformation of Temple's Main Campus since the beginning. She joined forces with Kate Wingert-Playdon, a professor of architecture and associate dean of Tyler School of Art's Division of Architecture and Environmental Design, who wrote a book about the library's transformational concept and design, to produce an in-depth photo essay on the project. 
The book, Library as Stoa: Public Space and Academic Mission in Snøhetta's Charles Library, will be published in December 2019 (ORO Editions, Kate Wingert-Playdon with Phillip Crosby). The book is based on a symposium series where the understanding of the future of our libraries, public and cultural institutions, the urban campus and city context were well considered and discussed. The voices of many—cultural administrators, architects, planners, and librarians—are well represented in the dialogue that ensued. The book addresses Charles Library in three essays that discuss the idea of the library and culture as represented through its architecture, the community's role in the design process, and Charles Library reflected through its relationship to the campus and the city.
NOTE: For optimal viewing, maximize the photo gallery in your browser window.
Resources:
Steve Charles: Meet the alumnus, trustee and generous Temple supporter for whom Charles Library is named. 
Snøhetta: Learn more about the internationally renowned architcure firm that designed Charles Library and see more renderings. 
University Libraries: About Charles Library
Support Charles Library