Cybersecurity lessons are focus of Temple MESA students' DC visit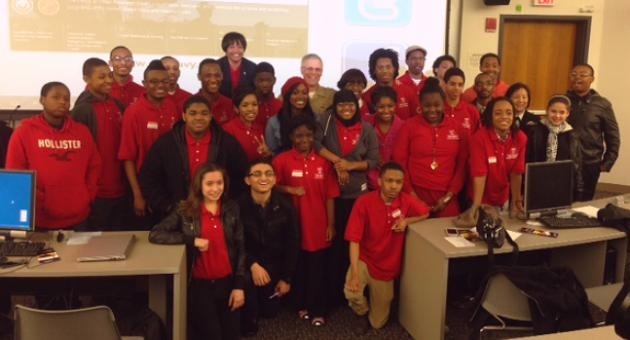 Watch any episode of a television police procedural drama such as "NCIS" and it's easy to grasp how important cybersecurity is to national security. 
Last month, 30 Philadelphia middle and high school students who participate in Temple's Mathematics, Engineering, Science Achievement (MESA) program had an opportunity to learn that lesson firsthand during a trip to Washington, D.C.
The students, who are part of Temple MESA's Mobile Apps/Technology Initiative, heard presentations on the importance of cybersecurity from members of the White House National Security Staff, the U.S. Navy and the Naval Criminal Investigative Service.
Presenters included Samara Moore, director for cybersecurity critical infrastructure protection, National Security Staff, the White House; Capt. Cynthia Macri, special advisor for diversity to the Chief of Naval Operations; and Cmdr. Theodore Johnson, III, USN, cyber ops action officer for the Joint Staff.
Iyasu Watts, a senior at Central High School who has been involved in Temple MESA for the past two years, said the trip was very informative and interesting.
"I have known for a long time that cybersecurity has been an issue, but the trip really highlighted and stressed the need for advancement in cyber-security," said Watts, who will enroll at Temple in the fall. "After the presentation, I really started thinking more about being able to protect systems from being hacked."
He said that the officials, through their presentations, highlighted career opportunities that are available to those who are technically literate.
"They provided us with different paths that we could take and opportunities that we could take advantage of by having the skills that we have in order to have a successful career," said Watts, who hopes to one day own a software development company.
The presentations by the government officials helped to bring the issue of cybersecurity into perspective for another Central High School student, Zuliesuivie Ball, who will also enroll at Temple in the fall.
"Going into the cyber-security briefings, I did not know much about it, nor did I know the significance of NCIS," said Ball, who has been involved in MESA for the past six months. "But after our journey to (Washington) was over, I had a better understanding of how detrimental hacking of other countries into our systems could be and why cybersecurity is a crucial part in our protection."
Ball said MESA has opened her eyes to a different world and ignited a passion in engineering.
"Never before did I see myself involved in the engineering field, but MESA has helped me to consider a different career," she said. "I would like to establish myself as a specialist in technology and engineering after I graduate."
Both Watts and Ball are recipients of 2013 Science and Engineering Apprenticeships sponsored by the Office of Naval Research.
The Washington trip grew out of January's White House Tech Inclusion Summit, in which Jamie Bracey, director of STEM education, outreach and research in Temple's College of Engineering was invited to participate.
"As part of that effort, and Temple College of Engineering's effort to broaden the MESA students' knowledge, we thought the trip to the Washington would be a great motivator and a chance to give Philadelphia students broader perspectives about coding, careers and the impact of programming on national security," said Bracey, who is also director of Temple MESA. "So we reached out, and the response was amazing."
Johnson, who addressed students during the Washington visit, will hold a cyber-security workshop for MESA students on April 27 at Temple.
Lead by the College of Engineering, Temple's MESA initiative is a K-12 program designed to prepare middle and high school students for academic and professional careers in mathematics, engineering, science, and technology.