Mayor Nutter assesses impact of state cuts to Temple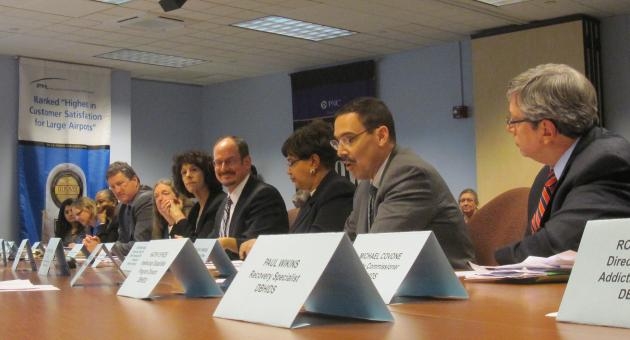 On Thursday, Philadelphia Mayor Michael Nutter convened a panel of civic and municipal leaders to discuss the potential effect of proposed reductions in funding for educational and social services that benefit citizens of the Philadelphia region.
Temple Executive Vice President, CFO and Treasurer Anthony Wagner represented the university in the roundtable discussion. He illustrated Temple's contributions to the region, its economic impact and the effect the proposed reductions in Temple's Commonwealth support would have on the university community and the city as a whole.
During his annual budget address earlier this month, Pennsylvania Governor Tom Corbett proposed reducing the Commonwealth's investment in Temple by 30 percent. The General Assembly is now in the process of holding budget hearings and seeks to finalize Pennsylvania's budget for fiscal year 2012-13 by the June 30 constitutional deadline.
"If you're a student from Philadelphia or anywhere in Pennsylvania, your tuition is nearly $10,000 less than a student from New Jersey or another state," said Wagner. "If these cuts are enacted, tuition will go up, access will go down, students will be forced into more debt and some, sadly, will have no choice but to drop out of college."
Mayor Nutter expressed deep concern about the proposed cuts for Temple, noting the importance of Temple and other institutions of higher education to the regional economy.
"The reason Philadelphia was not devastated by the economic recession was because of our universities. All of you are the economic development engines of Philadelphia, Southeastern Pennsylvania and the Commonwealth," said the mayor.
Nutter called on all Philadelphians to advocate for fair funding for Temple and other vital city organizations.
The roundtable was a special session of PhillyStat, the City of Philadelphia's regular meeting of city officials and the public to discuss progress toward Mayor Nutter's strategic goals.