Career e-portfolios help students manage their online identity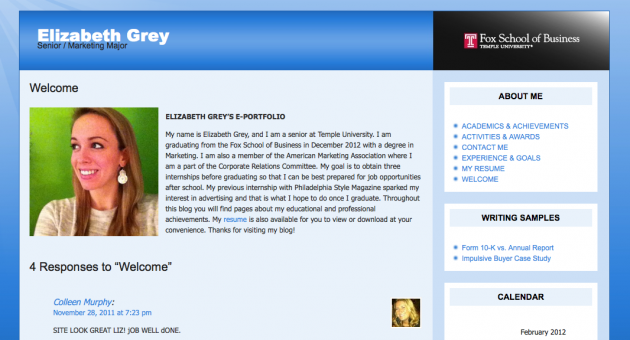 Junior management information systems (MIS) major Jennifer O'Malley recently pitched an idea to pharmaceutical giant Merck to develop a medicine-identification tool that can be likened to facial recognition for pills.
O'Malley is now leading a team of three other Fox School of Business students on a project-based internship to develop the idea. But she might not have gotten the opportunity without her e-portfolio.
An e-portfolio, also known as an electronic resume, is a required assignment for all Fox School undergraduates and a prime example of the power of the Management Information Systems Department's community site — a social education initiative that integrates learning, teaching, professional development, placement and administration through open-source software and social media.
O'Malley was identified as a candidate for the Merck internship because Laurel Miller, director of Fox's Institute for Business and Information Technology, found O'Malley's work through a new e-portfolio search engine that uses specific profile fields such as skills and interests. Miller identified a group of potential students and sent their e-portfolios to Merck managers.
"I'm sure my GPA and proposal helped, but I was also able to highlight all my experiences and skills on my e-portfolio," O'Malley said.
The e-portfolio initiative includes custom design elements, workshops and tutorials for creating effective and engaging content, and the search engine for employers to find students by relevant criteria. To show up in the search engine, students must submit their e-portfolio for listing. Students also learn about and use analytics for search engine optimization and online-reputation management.
"E-portfolios are an effective tool for students to actively control and manage their digital identities and reputations so that they can get the best internships and jobs," said Miller, who is leading the initiative. "The e-portfolio is designed to be more formal than a Facebook page but more creative and open than a LinkedIn profile."
The Fox MIS Department's community site continues to grow stronger and now has more than 825 active e-portfolios, 1,845 unique blogs and 3,402 registered members among students, faculty, staff and alumni.
The site is managed from the MIS community platform, a set of software tools and templates based on WordPress and BuddyPress that promote social education by enabling connections, community building and content management.
"Every member — student, faculty, staff and alumni — is a socially connected content generator and manager," said David Schuff, Fox's director of innovation in learning technologies and an associate professor of MIS. "The success of these initiatives requires changes in thinking among faculty, staff and students, as they must diverge from their traditional roles and see themselves as 'co-creators' of content."
Assistant Professor Steven L. Johnson maintains a blog on the community site that features news and videos, a link to his Twitter profile and a listing of current and past MIS courses he teaches.
"The community site is an excellent platform for students to gain first-hand experience in creating, configuring and maintaining their own social media presence," said Johnson. "It helps students transition from casual personal use to a professionally oriented online identity."