Temple Community Garden Feast feeds students' hearts, minds and stomachs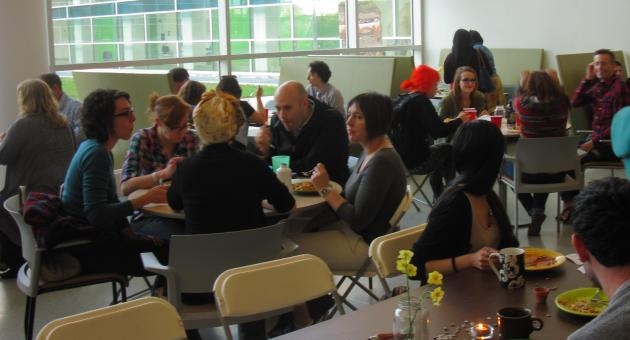 Hungry students packed the Tyler School of Art's Artist's Palate Café last week to partake of the Temple Community Garden Feast.
Offering students a taste of organic, homegrown and homemade dishes, the biannual event is the biggest fundraiser for Temple Community Garden, a student organization with the mission of empowering our urban community to connect more fully to the land.
Aside from raising funds for the organization's community outreach efforts, the event emphasized the practicality of gardening and healthful cooking.
"It's not only a fundraiser, but it's also an awareness raiser," said Ashley Tryba, event coordinator for Temple Community Garden.
"Our main goal is to empower people in Philadelphia to grow their own foods and take responsibility for their health and what they eat," Tryba said.
Proceeds from the event benefit TCG's gardening and community education programs at three garden locations in the neighborhoods near Temple's Main Campus: Penrose Recreational Center at 11th and Susquehenna Streets; Kairos House Transitional Housing at Broad and Jefferson Streets; and Raymond Rosen Apartments at 23rd and Diamond Streets.
Thanks to the unseasonably mild winter, some of the dishes served at the feast used ingredients harvested recently straight out of TCG's main garden on Broad and Norris Streets.
"I stopped by the main garden before the feast and I was able to harvest four purple cabbages and some baby carrots that I used in my dish for the night," Tryba said.
After tasting a few pasta and chili combinations, junior Melody Lam was sold.
"It's really good!" she said. "You don't even taste or notice the difference. I would definitely like to eat more stuff like this, but I just don't have the time to do it."
According Tryba, gardening is something that everyone can do because it takes very few resources.
"That's what we're out here for, so we can educate people about everything from composing to harvesting, and to let them know that there are other, less expensive ways to cook and eat," she said.