Temple joins Brazil-U.S. Partnership for the 21st Century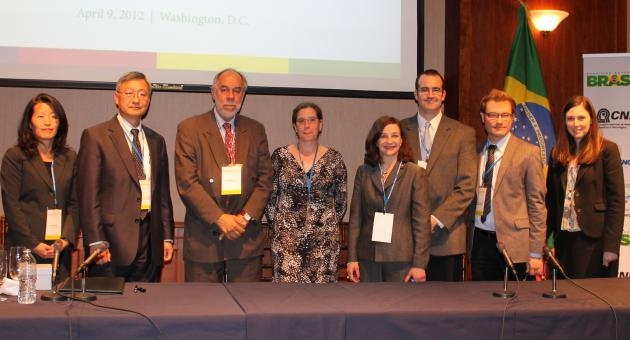 It was a meeting of minds.
On April 9 at the U.S. Chamber of Commerce, a delegation from Temple attended "Brazil-U.S.: Partnership for the 21st Century," a conference organized by the Government of Brazil to explore U.S.-Brazil cooperation in business and education.
During a special ceremony, Temple signed a Memorandum of Understanding with the Brazilian Agency for Support and Evaluation of Graduate Education (CAPES) to establish a commitment to hosting more Brazilian study abroad students at Temple through Brazil's Science Without Borders Program. Other top universities, including Harvard, Penn State, University of Michigan, Berkley and Yale were also invited to participate in the signing ceremony.
Established in 1951 within the Ministry of Higher Education in Brazil, CAPES is a public foundation that awards scholarship grants to students at universities and research centers in Brazil and abroad.
"The Brazilian government is investing in its students through the Science Without Borders Program because the development of skills and competencies are needed to fulfill a knowledge-based economy," said Jorge Guimarães, president of CAPES.
Temple currently hosts three Brazilian students in computer and information sciences through the Science Without Borders Program, with four more to come to campus this fall.
"The leaders of Brazil understand that education is key to the country's prosperity," said Hai-Lung Dai, Temple's senior vice provost for international affairs. They even made it part of the practice of foreign policy.
"Temple is eager to welcome more Brazilian students into its classrooms to learn, innovate and grow alongside the domestic students and act as cultural ambassadors."
During the ceremony's opening remarks, Secretary of State Hillary Clinton spoke at length about the importance of educational exchange and how more interaction between young people is one of the keys to a shared future. She commended Brazil for its pioneering Science Without Borders Program.
After meeting with President Obama earlier in the day, Brazil's President Dilma Rousseff gave a closing speech to the conference participants touching on bilateral cooperation in a number of significant areas, including commercial and educational issues.