Great Teacher Award recipients Amini and Bass mold minds and inspire students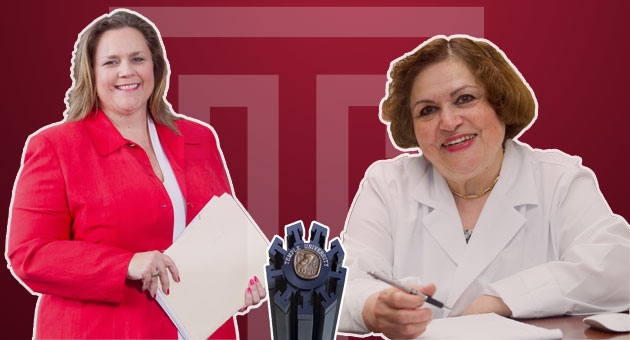 It has been said that teaching — which involves both mind and spirit — is one of the greatest arts. If that's the case, then this year's Temple Great Teacher Award recipients, Shohreh Amini and Sarah Bass, are truly masters.
Amini holds professorships in Neuroscience and Biology and is the associate dean for research and graduate programs at the College of Science and Technology. The 2009 Lindback Award winner also served as Biology Department chair from 2002-2010.
Bass is an associate professor of public health (clinical), undergraduate public health program director, and co-director of the Risk Communication Laboratory. She is the architect of one of only 12 undergraduate public health curricula to be accredited by the Council on Education in Public Health.
Universally recognized as outstanding in classroom-based knowledge transfer, they foster classroom environments where challenging their ideas is encouraged. They seek continuous improvement in their teaching through student feedback and ongoing research in their fields.
"Dr. Amini only required that we learn," said former student Afton Metkowski. "A good teacher is able to present the material as they understand it. A great teacher takes the time to understand a student's learning style and presents the material in a way that makes sense to the student. The fact that Dr. Amini stepped out of her standard teaching style to help me learn makes her a great teacher."
Their curriculum vitae are catalogues of published articles, invited talks, awards, appointments to influential boards and federally funded grants. However, it is their dedication to and mentoring of students who enter their stratosphere that sets them apart as Great Teacher Award winners.
"She offers her students a unique and inspiring perspective that follows from her vast experience in the field of health education," 2008 graduate Megan Johnson said of Bass, who is often referred to as "Momma Bass" for her caring quality or the "Smiling Sergeant" because of her no nonsense attitude. "As public health students, we were hard pressed not to admire Dr. Bass' professional accomplishments, which made her lectures particularly poignant."
It is the endless lines of advice-seeking students queued up outside their offices. It is helping an international student find a teaching assistantship to help support his family. It's begging a student to seek counseling to leave an abusive relationship. Why do these women give so much of themselves to their students? Very simply, it's who they are. Even their co-curricular activities speak to this desire to assist students, as well as those outside the university.
Amini came of age in Iran in the 1970s, graduating from the University of Tehran's International Institute for Biochemistry and Biophysics with a master's degree in cell and molecular biology. With a scholarship from Iran's Ministry of Science, she immigrated to the United States in 1979 to complete her Ph.D. at the University of Pennsylvania. Four years later, with a doctorate in molecular biology, she was publishing articles about her research.
Against that backdrop, Amini has developed a deep commitment to STEM (science, technology, engineering and math) education for students of every educational level.
As a member of the advisory board for the National Institutes of Health-sponsored Minority Access to Research Careers (MARC) program, Amini seeks ways for minority middle and high schoolers to accrue laboratory time. She also serves as a research mentor.
She also oversees the "Scientists as Teachers; Teachers as Scientists" program, wherein Temple graduate fellows in STEM disciplines pair with Philadelphia School District science teachers to enhance science teaching and learning. Many of the students of those district teachers have gone on to receive recognition in regional and national science fairs.
"It is extremely rewarding to witness the scientific growth of students who otherwise would not have the opportunity to flourish and exhibit their true potential," said Amini.
Bass takes her co-curricular activities directly to the streets. Through the Risk Communication Laboratory, she oversees research on health and risk communication and how public health messages are crafted for audiences about such issues as colorectal cancer screening barriers, smallpox vaccination and avian flu perceptions and HIV clinical research participation barriers, among others.
"The majority of our work in the lab has been with low literacy populations and attempting to develop materials that meet the needs of all of the public," said Bass. "Public health issues occur everywhere but urban areas are especially impacted because those most at risk for poor health outcomes are often disadvantaged economically. It's fulfilling to develop literacy appropriate materials that can make a difference for people making decisions about their health."
Bass began advocating for people with HIV and creating messages to help the public understand their risk during a stint as a public information officer for the West Virginia State Health Department during the '80s HIV/AIDS crisis. "I knew I had found a home," she said.
In the 1990s, Bass started graduate work in public health at Temple, eventually earning master's and doctoral degrees before stepping into the role of directing the university's new undergraduate public health program. She has since redesigned the curriculum to include a generalist approach and a strong emphasis on field experience. Both points offer students a breadth of experience and broadens their options upon graduation. At its core, Bass' new curriculum serves both the students and the city of Philadelphia.
"(Our program) ensures that frontline workers understand the context in which health behavior occurs. They know that negative health behavior is not only in an individual's control, but that outside influences can greatly influence behavior and ultimately health," said Bass, who classifies herself as both a "practitioner and teacher."
"Having an undergraduate program focused on instilling these lessons is an important contribution to public health in Philadelphia," she said.
The awards will be presented at the Faculty Awards Luncheon for invitees and their guests on Thursday, April 26 in the Temple Performing Arts Center's Chapel of Four Chaplains.
— Kevin Kaufman