Landscape architecture standout leads by example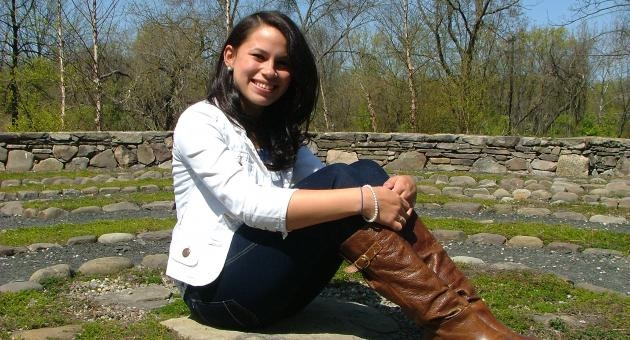 For her fifth grade yearbook, Diana Fernandez was asked an important question: "What do you want to be when you grow up?" It didn't take her long to come up with an answer.
"I said I wanted to be President of the United States. As an immigrant, I know that can never happen, but I certainly set out to become president of everything I could from there on out," said Fernandez, who was born in a small village in the Dominican Republic before she and her family moved to the U.S. when she was 6 years old. "I've always loved leading and managing and getting people excited about what excited me."
Combining her leadership skills with a love of design and drawing led her to discover architecture as a potential career.
"I came to Temple as an architecture major, but it didn't quite fit the definition I had in my head. A professor suggested landscape architecture at the Ambler Campus, and it's been my passion ever since," said Fernandez, 21, of Pennsauken, N.J. "In landscape architecture, the studio becomes a second home — everyone knows my name and they value the impact that I can make. You are learning the science and engineering behind everything. I feel I could walk into any firm and be able to do anything."
Between school, work and family, Fernandez has become particularly adept at keeping many balls in the air. While completing her degree, she also worked as an intern at Onion Flats, an innovative architecture firm in Philadelphia; was a peer teacher for several professors in the School of Environmental Design courses; and served a term as president of Temple's Landscape Architecture and Horticulture Association. Her daughter Kayla has also become a welcome visitor to the design studio.
Without a strong family support system, "I wouldn't be able to do what I do," said Fernandez, who is the first in her family to attend college and was voted Student Leader of the Year at Temple University Ambler in 2011.
"They have always pushed me to go further, to do my best. This is a huge thing for them to go through this experience as I do. It's all about being passionate about what you do no matter how hard it is," she said. "In studio, you really have to stop being a student — you can't just get by when you're, for example, developing design concepts for the City of Philadelphia. You are representing yourself, your department and Temple as a whole."