Tyler grad is driven by passion for ideas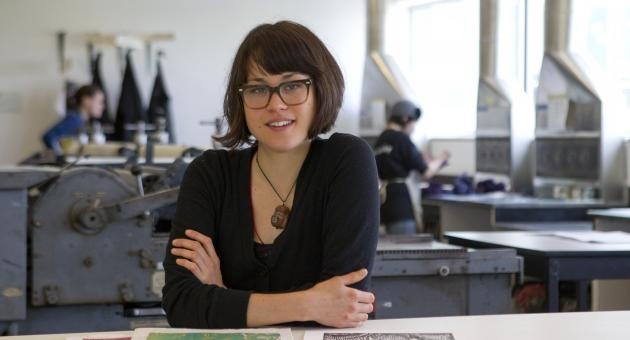 For someone who once contemplated dropping out of high school, Elisa Mosley has truly made the most of opportunities in college.
While still in high school, she began taking courses for credit at Temple at the suggestion of a guidance counselor. After a year off following high school graduation, Mosley enrolled at Temple full time and was admitted into the Honors Program.
"The Honors Program opens the door to a lot of really interesting classes," Mosley said. "And since I've always been really good at making connections, with all the subjects I've studied and people I've met all under the umbrella of art, seeing them all coalesce really did come together for me."
Mosley's best-known undertaking was the creation of AKA, or "the box," a wooden structure she erected with two classmates at the front entrance to the Tyler School of Art. Constructed of plywood and furnished with recycled office furniture, the space was conceived to provide students, faculty and community members an open forum to congregate and exchange ideas. The success of the endeavor brought coverage in several local media outlets, including the Philadelphia Inquirer.
Mosley conceived the idea for the box from a book on Buddhism she was reading that introduced her to the concept of accumulative knowledge. The idea resonated with her.
"It's all about building ideas off of one another," Mosley said. "I don't think I'm more special than the next person, but once you put individuals together for one common purpose it's like we all turn into superheroes."
Mosley credits her passion for knowledge as her innate motivation. She has won several honors, including an Education Award for her work with Americorps, and a scholarship to participate in an education program for the Center for American Women in Politics at Rutgers University New Brunswick.
"If I've learned anything during my four years of college, it's when you have a good idea, you have to nurse it," said Mosley. "Once you do that, it's like, 'Ok, this is reality. Now I just have to make it happen.'"
Mosley said that she plans to use the skills and trades she learned at Temple to kick-start her post-grad ambitions, which include starting a school for alternative learning.
"I definitely am looking into starting a non-profit," Mosley said. "This whole thing about alternative learning, I definitely have to look into it for myself."
Mosley said she will draw on her extensive network to help her reach that goal. She attributes Temple's diverse and open atmosphere to helping her develop as a scholar and person.
"College has expanded my vision of where I want to go, but who I've always been, as well," Mosley said. "It encouraged me to hone in on the things I am really passionate about. I don't think I could have done that anywhere else but Temple, to be honest."