TSG leader shows passion for pageants and politics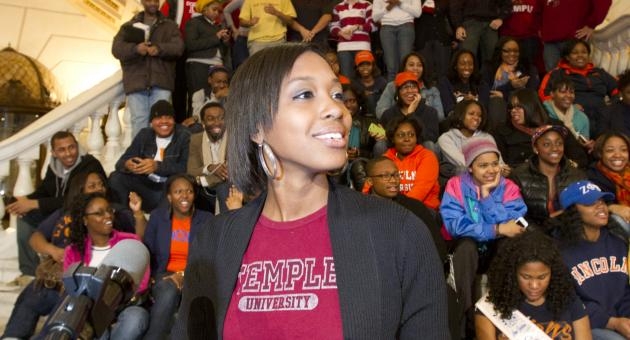 Elliot Griffin has spent her senior year as a leader within Temple Student Government, representing Temple students and leading campus-wide advocacy campaigns. But as Miss Pennsylvania Teen USA in 2008, her policy work also extends to the world of beauty pageants. After graduation, she plans to move to Ohio to work for Teach for America.
Temple Times: Do you see a connection between the worlds of politics and pageants?
Elliot Griffin: I think many people might assume that pageants and politics are nothing alike, but I really feel there's a lot of crossover. Both are relationship-driven experiences, and I actually used my role in pageants as a microphone for my politics. It's important that young people, especially young women, use their voice and stand up for what they believe. As Miss Pennsylvania Teen USA, I constantly used my social capital to promote political participation among young people, and I try to raise the level of discourse about the issues affecting women through this role.
TT: How did you get involved in politics?
EG: During the 2008 Democratic primary, I volunteered for Sen. Barack Obama in the suburbs of Pittsburgh. The momentum and passion that surrounded that race cemented my desire to work in the political sphere. During the summer before my sophomore year in college I chose to forgo a paid internship at a news station to intern with Organizing for America (OFA) and fight for health care reform. I believe that this is the best decision I made during my college career. After interning with OFA, I was able to better lead the College Democrats group on campus, and I've also had the opportunity to work for numerous campaigns in the Philadelphia area since.
TT: Who is the most impressive person you've met?
EG: Through internships and life on the campaign trail I've had the privilege to meet so many incredible people. But out of all those people, the most impressive person I met was Congressman John Lewis on the anniversary of the voting rights act. I know that it is because of his bravery as a young man that I am able to fulfill the dream of higher education. I am forever grateful to Congressman Lewis taking the time to tell me about his life in the Civil Rights Movement and for reminding me that the fight for full equality still continues.
TT: What's your proudest accomplishment?
EG: I think I have to name two: My proudest accomplishment so far was being elected as VP of Temple Student Government. I've had an amazing year working with the students, faculty and administrators who make Temple such a unique university. I'm also really proud of the opportunity I had to introduce President Obama when he spoke on campus in 2010. It was such an honor to introduce someone I respect and admire so much.