Project SHINE director discusses immigrant advocacy with President Obama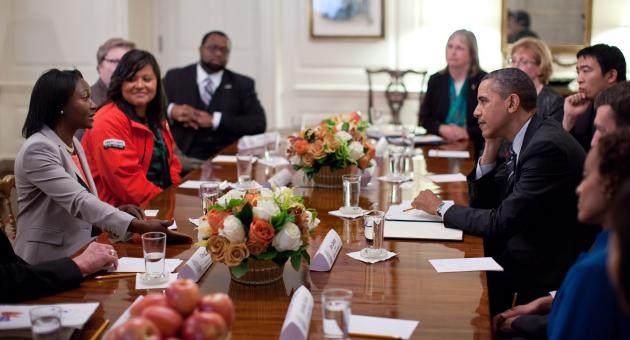 Patience Lehrman is getting familiar with the White House.
To commemorate the first anniversary of President Barack Obama's Champions of Change initiative, Lehrman made another visit to Washington, D.C., where less than a year ago she sat with top immigration policymakers and fellow Champions of Change at a roundtable discussion.
Lehrman, national director of Temple's Project SHINE (Students Helping in the Naturalization of Elders), was awarded the E Pluribus Unum Prize in 2011. Competing against 450 applicants, Lehrman was one of only four to receive the award for exceptional immigrant integration initiatives. The $50,000 prize, given by the Migration Policy Institute, was used to fortify and expand Project SHINE's initiatives.
That same day, Lehrman, a Fox School of Business Executive MBA graduate who also holds Temple master's degrees in education and organizational development, was named a White House Champion of Change.
Project SHINE is a nonprofit based at Temple's Intergenerational Center. Today, SHINE operates on 19 campuses in nine states. The program started in 1985 and has trained nearly 10,000 college students to provide important English, civics and literacy knowledge to local older immigrant populations. More than 40,000 immigrants have been assisted through the project.
Lehrman joined Obama and 12 other Champions of Change on April 26 in an event highlighting the great accomplishments achieved by alumni since initially being honored as White House Champions of Change. The program was created by the Obama administration to "honor ordinary Americans doing extraordinary things" and has recognized more than 500 people from all 50 states.
Lehrman believes immigrants are America's greatest asset and that it is imperative that they are integrated into society in order for the nation to excel politically, economically and socially.
"By raising the profile of this issue and calling for a national conversation on immigration reform, the White House recognizes that the best ideas that result in real change come from the American people," Lehrman said. "By leveraging every asset and every talent in our communities, we can win the future."