STEM careers are focus of NSF-funded middle school program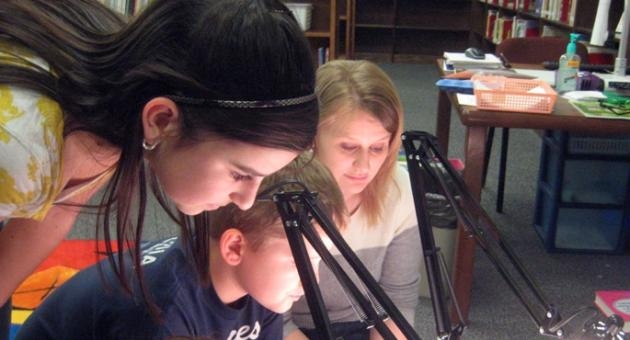 Photo courtesy Carol Brandt
An afterschool program being developed by faculty researchers at Temple, Virginia Tech and the University of Kentucky is focused on motivating middle school students to pursue careers in science, technology, engineering and math (STEM).
Carol Brandt, assistant professor of science education in Temple's College of Education, is a co-principal investigator on a three-year, $1.3 million National Science Foundation grant that is funding the development and implementation of the program.
Brandt and her collaborators have spent two years developing a STEM curriculum for an afterschool program called "Studio STEM," which is currently being tested and evaluated in underserved rural communities along the border of Virginia and West Virginia. This year, three schools took part in the program, with 25-30 students per school meeting for an hour to an hour-and-a-half on two days each week.
Centered around the theme of saving animals, the program presented students with a challenging problem dealing with energy transfer and energy conservation. Using design-based learning, students worked in small groups to analyze the problem, tinker with materials and develop and test designs to solve the problem.
By incorporating themes of animal conservation, the curriculum also helped engage the interest of girls in science- and engineering-based problems. This year's theme was "Save the Penguin," in which the students learned about scientists working with penguins in South Africa and how global warming is impacting polar penguin habitats.
"The problem the students were given was to design a shelter to keep the penguins cold," said Brandt. "They had to decide how they would design the shelter and what materials they would use to build it."
Each group presented their designs to be critiqued by everyone in the program.
"Using that input from their fellow students, they can then go back and redesign their shelter," said Brandt.
Brandt said the participating schools' science teachers have been trained in the new curriculum and are receptive to the new program.
"It frees them up from the constraints of a typical class day, because they are not working from a textbook, but giving the students a lot more freedom and autonomy," she said.
Volunteer undergraduate science and engineering students help facilitate discussion among the small groups.
"The science and engineering students are trained to ask questions and engage in dialog that helps the middle school students think and find the solutions," said Brandt.
The program also uses social media to allow the students to connect, interact, share ideas and socialize. A social networking site has been set up on Edmodo, a Facebook-like social-media tool for teachers and students.
Brandt, who joined Temple at the beginning of the 2011-12 academic year, will analyze and evaluate video of the students working together in the small groups and is interested in how teachers and students use this alternative studio learning environment. She said researchers hope to soon begin scaling up the program.
"My plan is to find some schools and sites in the Philadelphia area to do this afterschool program as well."