Temple celebrates Juneteenth, honors first African American Marines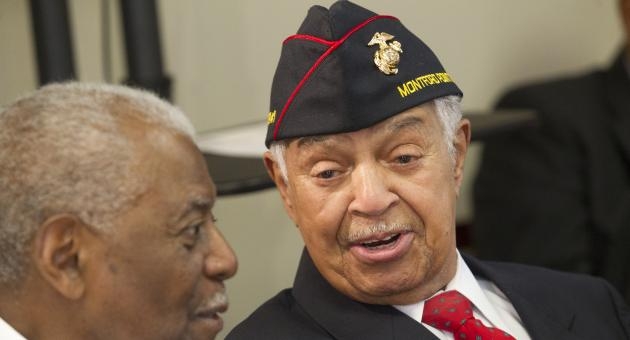 In celebration of Juneteenth (June 19), the oldest nationally celebrated commemoration of the ending of slavery in the United States, the Charles L. Blockson Afro-American Collection held an event to honor the Montford Point Marines, the first African Americans to serve in the U.S. Marine Corps.
Over 19,000 African American men received basic training at the segregated Montford Point Base adjacent to Camp Lejeune, North Carolina from 1942 to 49. Many of these marines participated in the Pacific Theater Campaign of World War II.
Following remarks by Charles L. Blockson, Diane Turner, curator of the Blockson Collection, presented Milton Shirdan, Thomas S. Turner, William T. "Mr. C" Carney, Reverend Joseph Ginyard and Phillip Herout with certificates of appreciation for their accomplishments, strength and courage. 
"Honoring the Montford Point Marines on Juneteenth aligns with the mission of the Blockson Collection as a whole — to celebrate, collect, preserve and make accessible the rich history of African Americans in the U.S., highlighting Philadelphia and Pennsylvania." said Turner.
On June 27, the Montford Point Marines will receive the Congressional Gold Medal in Washington, D.C.
"This recognition is a long time coming, and put simply it means a lot," said Lawrence Brown, president of the Montford Point Marine Association, Philadelphia Chapter.
Also honored at the Juneteenth celebration, in partnership with Temple's Department of African American Studies, was Philadelphia native Allen B. Ballard, professor of history and Africana studies at the University of Albany-SUNY and professor emeritus of political science at City College of New York. Ballard read from his publication and memoir, Breaching Jericho's Wall: A Twentieth-Century African American Life (2011), followed by a book signing.