Neil Theobald named as sole finalist to be Temple's 10th president
Chairman Patrick O'Connor announces Trustees will vote Tuesday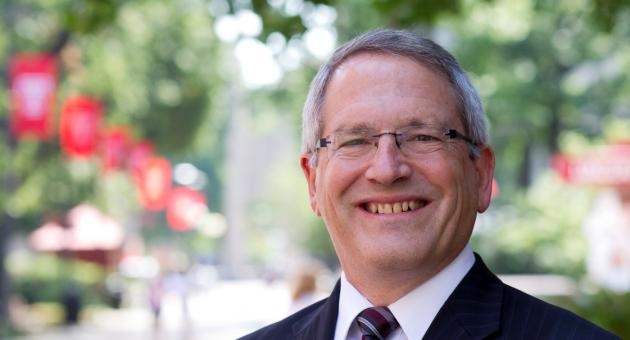 Temple University Board of Trustees Chairman Patrick J. O'Connor announced today that Neil Theobald, senior vice president and chief financial officer at Indiana University, is the sole finalist to become Temple's 10th president. If approved by trustees on Tuesday, Dr. Theobald will assume his new role on Jan. 1, 2013.
In addition to serving as Board of Trustees chair, O'Connor also chaired the Presidential Search Advisory Committee.
"The Committee received hundreds of applications from all across the nation. After reviewing these submissions and interviewing dozens of candidates, we came to the unanimous decision that Neil Theobald has the experience, vision and proven track record to lead this great university," O'Connor said in a message to the Temple community Friday morning.
Dr. Theobald said he looked forward to coming to Temple next week.
"My wife, Sheona, and I are thrilled to be considered for this position. Temple's stature, and its potential for continuing to provide affordable excellence to students and their families, makes this an ideal opportunity," Theobald said.
"If selected as Temple's next president, my immediate goal will be to understand what the trustees, faculty, students, staff and community leaders see as Temple's most pressing issues and what they believe the highest priorities should be for early presidential attention," he said.
In his letter, O'Connor praised Dr. Theobald's broad and deep history in all key aspects of public higher education.
"Dr. Theobald is a gifted teacher who holds a professorship in education finance at Indiana University Bloomington. He also is a dedicated researcher whose work has drawn $1.5 million in funded research, and has resulted in numerous edited books, book chapters, and professional journal articles," O'Connor noted.
"In addition, Dr. Theobald has a deep and practical understanding of the changing dynamics of higher education. He wants to ensure that students have access to an education that is first-class and affordable.
"At Indiana, he made the tough decisions demanded by our times, while creating greater opportunities for student scholarship. I can't think of a better set of values to bring to the Temple presidency," said O'Connor.
The chairman also recognized the efforts of Acting President Richard M. Englert, who assumed the role on July 1 and will continue in the post until the end of the calendar year.
"Dr. Englert has provided strong and effective leadership during his brief tenure and has pledged to work with Dr. Theobald to build a smooth transition in the months to come," said O'Connor.
Biography of Neil David Theobald
Neil David Theobald is currently senior vice president and chief financial officer at Indiana University. He has university-wide responsibility for developing and implementing financial plans and policies to support Indiana University's objective: educating its 110,000 students, developing new knowledge through research expenditures of over $55 million and serving the state.
As senior vice president and chief financial officer, he oversees the preparation, approval and administration of the university's $3.1 billion budget, supervision of human resource services for the university's 3,100 faculty and more than 14,000 staff members, and management of the largest student union in the world and one of the five largest student housing systems in the country.
Under Theobald's direction, Indiana University implemented a $38.4 million state budget cut (7.8 percent) while avoiding layoffs and providing funding for faculty and staff salary increases averaging 2 percent per year. To accomplish this, the university has aggressively cut costs by consolidating purchasing systems ($12 million annual savings), providing an early retirement incentive taken by 500 employees ($46 million on-going savings), changing the vesting provision in the retirement plan ($3.5 million per year), closing the School of Continuing Studies ($1.8 million per year) and boosting IU's credit ranking to Moody's highest level, Aaa. Indiana University is one of only eight Aaa-rated public universities in the country.
In addition to his senior administrative responsibilities, Theobald holds a professorship in education finance on the Indiana University Bloomington campus. His research interests in the appropriate role of decentralization in educational financing and in modeling educational labor markets are reflected in more than $1.5 million in funded research, numerous books and book chapters, dozens of articles published in professional journals and nearly 50 policy reports for state governments across the United States.
Prior to his current post, Theobald was appointed as senior vice provost and special assistant to the president in 2006. Major accomplishments during his five years overseeing the campus budget include increasing the number of tenure-track faculty members by 80, increasing the campus financial aid endowment from $150 million to $370 million and increasing the mean SAT score of the incoming class from 1099 to 1147. He was named Indiana University Bloomington's vice chancellor for budgetary administration and planning in 2002.
In 1993, he was named director of the Indiana Education Policy Center, a role he held until 2002. Funded by the Lilly Endowment and the Indiana General Assembly, the center focused on Indiana's complex and ambitious efforts to improve the process by which about $47 billion annually is allocated to the state's K-12 public schools.
A native of Peoria, Illinois, Dr. Theobald began his career as a secondary school mathematics teacher in Washington state. He began his higher education career teaching education at the University of Washington from 1988 to 1993. Dr. Theobald went to Indiana University from the University of Washington, where he was associate professor of education finance.
He earned a bachelor's degree from Trinity College and a doctoral degree from the University of Washington.
He lives in Bloomington with his wife, Sheona Mackenzie, who is a school psychologist in the Monroe County schools. Their son, Roddy, is a graduate student in statistics at the University of Washington; their elder daughter, Kinnear, is completing a medical residency at the University of Colorado; and their younger daughter, Mattie, is a junior at Hamilton College in New York.