Political conventions a teaching moment for six Temple interns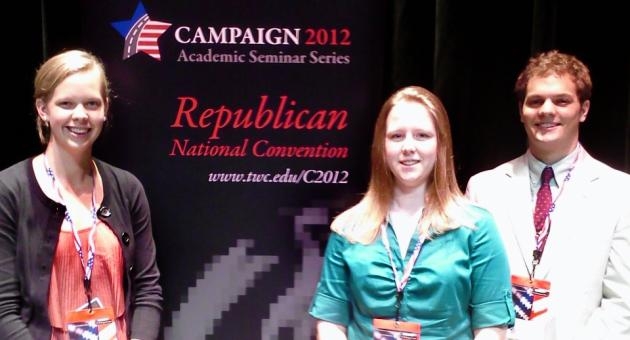 Six Temple students are attending the 2012 presidential nominating conventions–with three taking part in the Republican National Convention activities in Tampa, Fla., and three others heading to Charlotte, N.C, for the Democratic National Convention.

The trips are part of a highly-regarded internship and seminar program offered by the Washington Center, an independent non-profit organization with the mission of cultivating well-informed, socially engaged leaders. The internships for the students are being fully funded by the Temple Provost's Office.

Before the events, students participate in a two-week course that examines the role of national political conventions in the process of nominating and electing a party's candidates. They are then placed in volunteer fieldwork positions with the party, convention committee, host committee, media and many other convention-related organizations and events.

Students who applied for the Temple program went through a rigorous selection process, beginning last November.

"Our goal is to give our students — particularly those with a commitment to understanding the political process — the opportunity for an insider's view of the major party conventions," said Emily Moerer, assistant vice provost for undergraduate studies.

"Attending the conventions allows students to place into context some of what they are learning in their academic coursework," she said.

For senior political science major Erik Jacobs, attending the RNC will top off a series of hands-on learning opportunities in politics that he has participated in during his time at Temple.

"I worked as an intern for Pat Toomey in Washington, D.C., and also helped with his campaign here in Pennsylvania," said Jacobs. "That experience got me really interested in getting a closer look at the nominating process at the conventions."

Sophomore Laura Detter, a double major in international business and journalism, was thrilled that the selection committee took a chance on someone so young. "It's an opportunity that only comes along once every four years, so for me, it was now or never."

Detter has been assigned to write for the Dallas Morning News as part of her internship at the RNC. She says she hopes the experience will help to launch a career in international service and journalism.

En route to Charlotte, junior political science major Khoury Johnson summed things up.

"It's inspiring to know I will be part of something of this magnitude and significance," he said. "I am going to be sure to absorb as much as possible from the experience."