Posted
September 21, 2012
New students by the numbers
Busy admissions cycle concludes with arrival of freshmen, transfers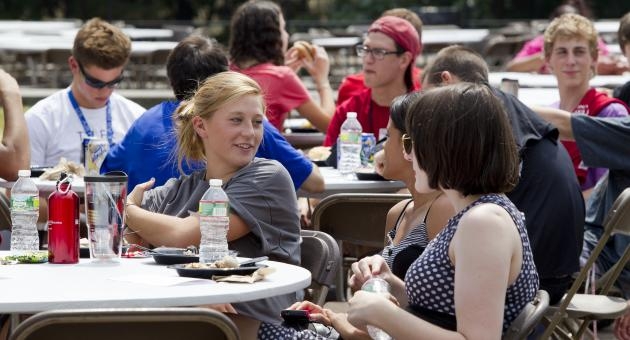 With freshmen and new transfers wrapping up their first month of classes as Temple students, the Office of Undergraduate Admissions has announced the final new student enrollment totals. This fall, the university welcomed 6,868 new students to Temple — 4,132 freshmen and 2,736 new transfers.
The last day to drop courses officially concluded one of the busiest admissions cycles in Temple history. The university received 18,733 completed freshman applications for Fall 2012, and a record number of about 40,000 prospective students and their families visited Temple during 2011.
The academic credentials of Temple's new students were among the university's highest for an entering class. The average SAT score of Temple freshmen was 1109, 22 points higher than the Temple freshman average five years ago, more than 99 points higher than the national average and 117 points higher than the Pennsylvania average. The average high school grade point average of Temple freshmen was 3.41, tying last year's record high; the average transfer GPA of 3.08, second only to last year's 3.10.
Diversity continues to be a hallmark of Temple freshman classes. More than a third of Fall 2012 Temple freshmen self-identify as minorities.
That diversity — especially the number of international students — was part of what attracted Horatio E. Thomas, a freshman in the Fox School of Business, to Temple.
"I've already met a Japanese exchange student, a Chinese student and a student who was born in France," said Thomas, who chose Temple after learning about study abroad options at Temple University Japan and Fox's strong programs in international business and management information systems. Temple seemed like such a good match that Thomas didn't apply to any other schools after attending Experience Temple Day during the admissions process.
A visit to campus also played a role in freshman Kate Shuman's decision to choose Temple over four other colleges. She already had inside information from her sister, a Temple student, but she wanted to see for herself on a campus tour.
"I was impressed by Temple's expansion," said Shuman, a student in the School of Media and Communication from Lansdale, Pa. "I liked the TECH Center and the Temple Performing Arts Center. I hear there's going to be a new science center and a new dorm. Temple is moving forward, and financially it was a lot more affordable than the other schools."