Posted
September 25, 2012
New class of 20/20 Scholarship recipients is welcomed to Temple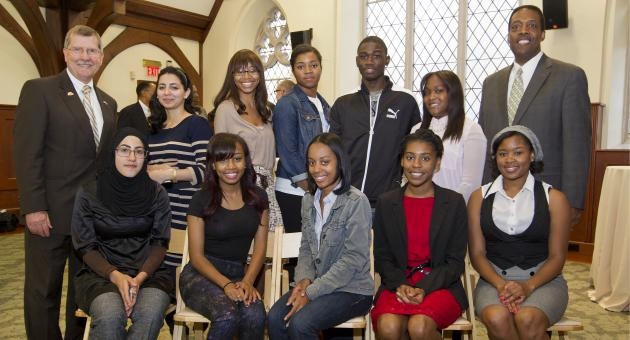 Last year Verishia Coaxum became one of the first students to receive a Temple 20/20 Scholarship. Since then, she's excelled in her studies and discovered a love for tutoring.
"Everyone needs help to strengthen their skills," said Coaxum, who tutors elementary students at the Women's Christian Alliance. "I'm glad that I can give back in this way."
On Monday, Sept. 24, Coaxum joined community members, faculty and administrators at a reception welcoming the 17 freshmen who will follow in her footsteps as 2012 Temple 20/20 Scholarship winners.
"I am honored to have the opportunity to attend this event as a student, a recipient and a role model," said Coaxum. "The students who are here today have conquered the negative stereotypes that are often associated with living in North Philadelphia, graduated high school and enrolled at one of the best universities in the country. We are all setting a positive example for others in our community."
Available to qualified students who live in four zip codes surrounding Temple's Main Campus in North Philadelphia, the 20/20 scholarship program was initiated in last year to help increase the number of Philadelphians with college degrees and to give back to the communities surrounding Temple. The students receive $5,000 per year to meet need not covered by other financial aid.
Philadelphia City Council President Darrell Clarke, who attended the reception to offer congratulations to the recipients and their families, also reminded them of their obligation to serve their community after they have graduated and achieved success in their careers.
"Now more than ever we need young sharp minds like yours to return to the communities that you were raised in to help make Philadelphia a better place," said Clarke.
This year Alpha Office Supplies, a North Philadelphia company, and Staples Advantage, the business-to-business division of Staples, partnered to pledge $250,000 to Temple over the next five years to support scholarships for North Philadelphia students.
"Supporting higher education has always been important to our company," said Chet Riddick, president and CEO of Alpha Office Supplies. "By supporting this program we hope to give local students an opportunity to succeed."
For more information about supporting Temple students, visit the university's scholarship website.