Trustees celebrate naming of Morgan Hall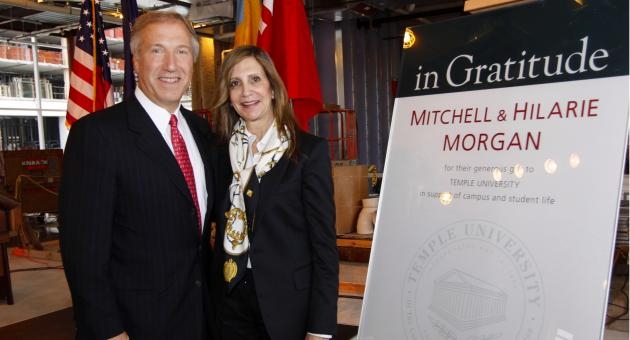 At an Oct. 9 naming ceremony attended by Board of Trustees members, senior officials and invited guests, the university honored Mitchell Morgan and his wife Hilarie for their support of Temple's new residence hall complex under construction at Broad Street and Cecil B. Moore Avenue.
Held on a third-floor terrace overlooking Broad Street, the event celebrated the Morgans' lifetime of generosity, including a recent $5 million commitment, and officially named the budding facility as Mitchell and Hilarie Morgan Hall.
Construction is continuing on the multi-level residence hall, which reached its top height this summer. When it opens next year, the 27-story building will include more than 1,200 beds, many of them with unparalleled views of Philadelphia from the northern side of Center City. The complex also includes an L-shaped, 10-story mid-rise residential structure, a dining facility and prime retail space along the busy Broad Street corridor.
Together, the buildings will add 660,000 gross square feet of new space to Temple's Main Campus physical plant.