Temple Hospital staff makes a special moment possible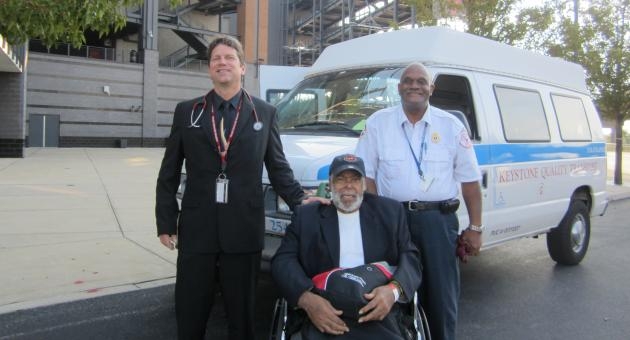 Courtesy Temple University Hospital
When retired Temple Police Commander Ike Johnstone found out that his son, Lance, was chosen to be inducted into the Temple University Athletics Hall of Fame, he was ecstatic. He learned that Lance would be honored at an induction ceremony at Lincoln Financial Field before Temple's BIG EAST matchup with the University of South Florida — and at Homecoming, to boot.
Johnstone has good reason to be proud of Lance, who is one of the top defensive players in Temple University football history, still owns the record for solo tackles in a career with 288, ranks second in the school record book with 429 total tackles and went on to play professionally for six years with the Oakland Raiders and five years with the Minnesota Vikings.
A few weeks before the big day, though, Ike Johnstone was admitted to Temple University Hospital for an infection.
"I was so depressed that I wouldn't be able to be there with my son and family on such an important day," said Johnstone.
But Johnstone was under the care of Dr. T. Sloane Guy, chief of Cardiothoracic Surgery at Temple University Hospital (TUH), who understood how important the event was to Ike and his family.
"Dr. Guy is a former football player himself, and I think we developed a special rapport," said Johnstone. "I could tell during our conversations that he made up his mind that he was going to make it happen — and that gave me great hope."
Guy did indeed make it happen, by spearheading a multidisciplinary effort among TUH staff to see if Johnstone could safely attend Lance's induction ceremony with his family and, if so, to make the arrangements for safe transport to and from Lincoln Financial Field.
Johnstone had already been discharged from TUH's Cardiovascular Unit and admitted to the Inpatient Rehabilitation Unit, so the next step was for Patricia Irvine, TUH's director of Rehabilitation Services, with the assistance of Tiffaney Randolph, a nurse practitioner in TUH's Cardiovascular Unit, to fine-tune Johnstone's medical, rehab and nursing needs during his brief leave from the rehab unit, and to address transport logistics.
Enter Thomas Kurtz, associate director for Emergency Services, Logistics and Specialty Care Transport at TUH and Temple Transport Team, who arranged for Johnstone to be transported by Keystone Quality Transport at no charge, with the support of Keystone Executive Vice President Neil Brady.
On Oct. 6, Ike arrived at Lincoln Financial Field in a wheelchair, accompanied by TUH Physical Medicine and Rehabilitation physician Dr. Rick Nissley. An oxygen tank and tubing were on hand just in case, but Johnstone never needed them. His wounds were carefully dressed, protected and hidden under the shirt, blazer and slacks he wore. But there was no hiding his joy at being able to join his wife, Ann, and the rest of his family on that beautiful Saturday morning.
During Lance's induction speech, as Johnstone looked on in tears, Lance thanked his father for "working on me from day one" to pursue his talent as a football player. "I didn't know if he would be able to make it here today. I'd like to thank Temple Hospital for making that happen."
"We've been looking forward to this for two months," said the elder Johnstone. "Dr. Guy gave me the will not to lose hope. Temple Hospital, you did it!"
— Christopher Guadagnino