As holidays approach, Temple community makes plans for a season of giving
There are many ways to help make the holidays special for local families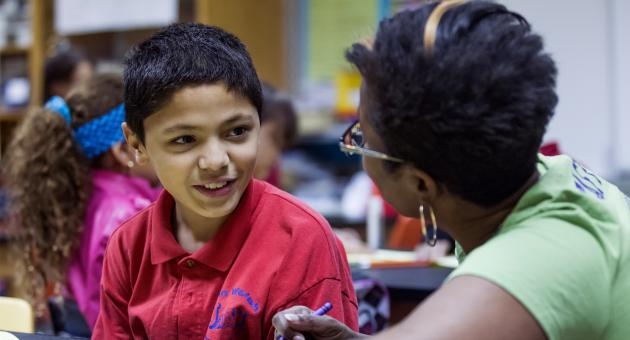 Each year, the Temple University community helps make the season bright for local children by donating time, money and toys to support campus volunteer efforts and community programing.
Joy Woods-Jones, director of the Temple Intergenerational Center's Grandma's Kids and Family Friends programs, is one of several members of the Temple community who lead outreach programs that provide for underserved families in the area around Main Campus.
The Grandma's Kids program helps support the families of children placed in the care of grandparents. For Woods-Jones, a successful year is one where the more than 200 children who receive support through the program receive at least one item on their wish list.
"We've had an amazing outpouring of support in years past," she said. "We hope that the Temple community will help us have another successful year by helping us collect toys for local elementary students."
Woods-Jones is also collecting toy donations for Family Friends, an intergenerational program that connects older adult volunteers with the families of children with special needs.
"This time of year can be hard on families," said Woods-Jones. "We want to be able to lend a hand and take some of the financial burden off of caregivers and grandparents, many of whom struggle to support their families throughout the year."
Another Temple-run program helps provide families with Thanksgiving meals. The Office of Community Relations and Campus Safety Services are busy gathering turkey dinners with all of the fixings to be donated to local families and churches.
"The food donations have already been purchased, now we could use some help stuffing bags for families in need," said Capt. Eileen Bradley, project coordinator from Campus Safety Services.
The offices will bag turkey dinners during the week of Nov. 19 to be donated to several local churches, including Saint Malachi, Norris Homes and Bahrain Baptist Church.
Ways to Give
Annual family support toy drive
Nov. 5 – Dec. 13
1700 N. Broad Street, room 412
The College of Health Professions and Social Work will host an annual toy drive to benefit children and families that participate in the Grandma's Kids and Family Friend's Program. Please bring unwrapped gifts to 1700 N. Broad St. (between Barnes & Noble and Wendy's), room 412. Pick up arrangements are available for large and multiple donations. To sponsor a child, call for a wish-list, donate unused toys or for more information on the program, call Joy Woods-Jones, family support unit director.
Community Relations and Campus Safety food drive
Donations can be dropped-off during the week of Nov. 19
Newman Center, 2129 North Broad Street, Philadelphia
Community Relations and Campus Safety will feed more than 75 families this year during their annual Thanksgiving Food Drive. Along with Temple Student Government, the offices will bag turkey dinners during the week of Nov. 19. Packaged meals will be donated to several local churches including Saint Malachi, Norris Homes and Bahrain Baptist Church. For information on how to donate or help with bag stuffing contact Andrea Swan, director of community and neighborhood affairs, at 215-204-7409.
Temple University Ambler annual turkey drive
Monetary donations will be accepted through Monday, Nov. 19
Frozen turkey donations will be taken on Monday, November 19 before 2 p.m.
Temple University Ambler, Administration Building
Ambler Campus students, faculty, and staff will hold a turkey drive for families served by the Mattie M. Dixon Community
Cupboard in Ambler Borough. Collected turkeys will be included in holiday baskets for families in need. For more information or to volunteer to help, call James Duffy, public relations coordinator, at 267-468-8108.
Black Alumni Book Holiday Book Drive
Thursday, Nov. 15, 5:30-7:30 p.m.
The Red Owl Tavern, 433 Chestnut Street, Philadelphia
Temple University Black Alumni will collect book donations for the children invited to attend the annual Temple Campus Safety Holiday Party. For more information on the event or to make a donation after the book drive, contact Maureen Fisher, assistant director of alumni societies, in the Office of Alumni Relations at maureenf@temple.edu.
Annual Campus Safety Holiday Party
Sunday, Dec. 2, 11 a.m. – 2 p.m.
Liacouras Center
Help make the season special for more than 350 local children by making a monetary donation to help support the Annual Holiday Party hosted by Campus Safety Services. Checks made out to Temple University can be dropped-off or mailed to Campus Safety. To volunteer during the party, or for more information on how to make a donation, contact Eileen Bradley, project coordinator, Campus Safety Services, at 215-204-2182.