Temple to launch new full-time freshman program in Harrisburg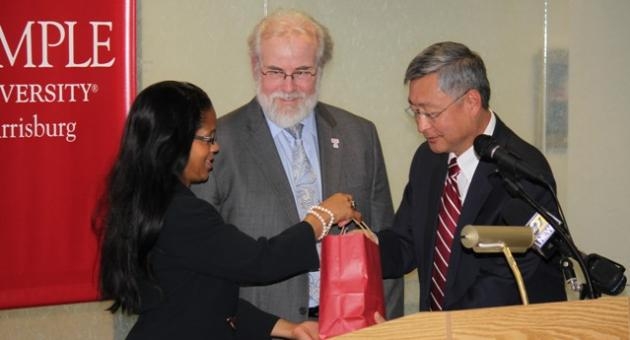 Beginning next Fall, college students in central Pennsylvania can access the benefits of a major urban research university without leaving home.
That's because Temple is launching a full-time program of General Education courses for freshmen at its campus on Strawberry Square in downtown Harrisburg. 
The new program, Freshman Year at Temple University Harrisburg, was announced Wednesday at a news conference attended by Harrisburg Mayor Linda D. Thompson, Temple Interim Provost Hai-Lung Dai, Temple Harrisburg Director Link Martin and Vice Provost for University College Vicki Lewis McGarvey.
Freshmen who enroll in the program will complete their first year of GenEd classes in Harrisburg before transitioning to the university's main or Ambler campuses. Classes will be held on Tuesdays, Wednesdays and Thursdays in order to provide students flexibility to manage their studies and work schedules on extended weekends. 
"Freshman Year at Temple University Harrisburg will allow students who live in Central Pennsylvania to live and work near home, saving money while completing their initial year as full-time Temple students," said Martin. "At the same time, the program is a gateway to the multitude of academic, research, recreational and cultural opportunities at Temple and in Philadelphia."
While attending classes in Harrisburg, freshmen will be offered an array of co-curricular activities and advising support to help them transition to Main Campus. 
The new pathway was developed in response to growing demand for Temple's educational offerings in central Pennsylvania, as evidenced by a growing number of applications and students from the region. For Fall 2012, the university received more than 1,000 applications from the greater Harrisburg area.
The freshman classes will complement Temple's evening graduate and certificate offerings in Harrisburg designed to meet the needs of working adults. The university's Institute for Public Affairs also sponsors the popular Pennsylvania Capital Semester, which brings undergraduates from Main Campus to the state capital to pursue internships in state government affairs and policy.
"The Freshman Year program builds on Temple's historic strengths in Harrisburg and emphasizes our commitment to educating students from throughout the Commonwealth," said Dai. 
"We look forward to the continued growth of the downtown's academic corridor with this exciting new announcement," said Neal West, president of Strawberry Square Development Corporation."We believe TUH already has a significant positive impact in the downtown and this announcement adds to the growing student and academic corridor in downtown Harrisburg." 
Prospective students interested in learning more about Freshman Year at Temple University Harrisburg may contact Anne Eckert at 717-232-6400, ext. 422, or via email at ake@temple.edu.