Residential Life program creates safe zones for discussing sexual identity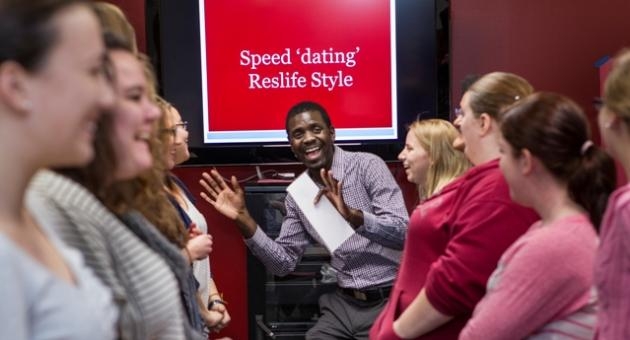 When students see a Safe Zone placard outside of a room or office, it's a signal that they have a safe space to talk about sexual orientation and gender identity issues. 
The members of the program themselves are known as Safe Zones, indicating their committment to creating a more accepting environment for all students. 
Introduced to Temple three years ago, the Safe Zone program was begun as a way to educate university members on topics related to the lesbian, gay, bisexual, transgender and questioning communities. Originally the certification was only offered to professional staff members of University Housing and Residential Life, but in its second year it expanded to include resident assistants and other students and mentors involved with Residential Life at Temple.
Junior political science major and LGBT minor Dylan Morpurgo participated in the program last spring as a member of the Residence Hall Association. He described the Safe Zone training as a very open setting where students could ask questions they might not normally feel comfortable discussing. His session included about 15 people,both members of the LGBTQ community and allies participating.
"The program was very all-inclusive," said Morpurgo. "Even if you already know something going in — like the proper language to use and what it means —  they don't take anything for granted."
Two Safe Zone facilitators, Temple Jordan, resident director of Hardwick Hall, and Nu'Rodney Prad, resident director of Temple Towers, offer two training sessions each semester. 
Each three-hour session teaches students and staff members the basic language, issues and concerns facing the LGBTQ community. Activities include the Gallery Walk, in which members write words commonly associated with titles such as lesbian, transgender and heterosexual on posters around the room and discuss their meaning.
Safe Zone also includes the opportunity for people to share their own personal experiences. Part of the training asks members to recall where they first encountered stereotypes, prejudices and discrimination. And students and staff members are asked to consider how factors like race, religion and socioeconomic status shape the experience of a LGBTQ community member. 
"Safe Zone is not just about sexuality," said Prad. "The same divisions that exist in the heterosexual community exist in the LGBTQ community as well," he said. "The goal of Safe Zone is to help students and staff members recognize the intersection of those identities and to equip them with the tools they need to support and empower people as they are."
At the end of the session, members take a test in order to earn their official Safe Zone certification. After completion, they receive a placard to be placed publicly in an area around university housing.
"Just to see the placard hanging on the door of a resident assistant or the wall of an office sends a positive and powerful message," said Morpurgo.
Since Safe Zone was first introduced to Temple, Jordan and Prad said that each year the program becomes bigger and better as more students become interested in learning about the community and seek to be an advocate and resource for its members.
"We find that students want to get it right," said Jordan. "Whether they are close to the issues or come in with some biases, obviously they are here to learn," she said. "And knowledge is the way to get it right."