Temple alumnus wins Oscar for film editing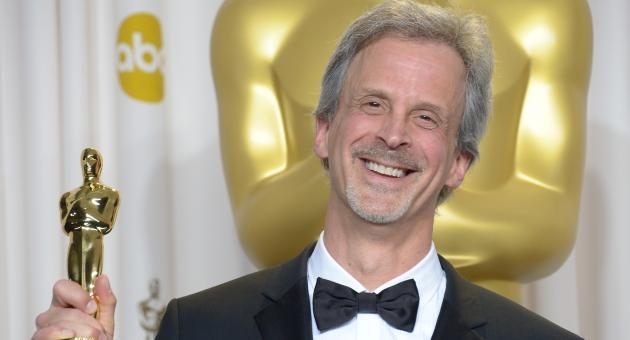 At about 10:30 p.m. on Sunday evening, Sandra Bullock opened the envelope.
"And the Oscar goes to," she said as she tore, "William Goldenberg, 'Argo.'"
With those eight words, veteran film editor and Temple alumnus William Goldenberg BA '82, won an Academy Award for "Best Film Editing" from the Academy of Motion Picture Arts and Sciences at the 85th annual Academy Awards ceremony Feb. 24 at the Dolby Theater in Los Angeles.
To the surprise of no one who knows him, the native Philadelphian was back at work the next day.
Goldenberg is one of the few nominees in the history of the Academy Awards who can say he lost to himself. He also nominated for a 2013 "Best Film Editing" Oscar for "Zero Dark Thirty." They were his third and fourth Academy Award nominations; Goldenberg was nominated for "Seabiscuit" in 2003 and "The Insider" in 1999. Last night's Oscar for "Argo"— which had already earned him editing awards from the American Cinema Editors, the British Academy of Film and Television Arts and the Los Angeles Film Critics Association — was Goldenberg's first.
Associate Professor Leann Erickson, who teaches film and video editing in Temple's Department of Film and Media Arts (FMA), acknowledged the remarkable breadth of Goldenberg's two-decade career as a film editor, noting the wide range of genres among his many film and television credits, including "Pleasantville" (1998), "Ali" (2001), "National Treasure" (2004), the TV show "Over There" (2005), "Gone Baby Gone" (2007) and "Transformers: Dark of the Moon" (2011).
"The breadth of what he has done is amazing," Erickson said. "What's impressive about 'Argo' is that the editor was able to combine very different tones and styles into a seamless whole. That is a real challenge — you can see how his experience in a range of genres was essential."
Seconds after the envelope was unsealed and Goldenberg walked up the stairs to receive the award, the Temple community exploded in pride via social media, email and texts. A tweet announcing the Oscar from @TempleUniv, the university's official twitter feed, was retweeted and favorited more than 300 times, breaking Temple's record for a tweet that wasn't about sports or weather.
"We are thrilled and impressed that William Goldenberg was nominated for two Oscars and won one," said FMA Professor and Chair Nora M. Alter, who noted that Goldenberg regularly joins Temple students enrolled in the Los Angeles-based "Entertainment Industry Perspectives" course, a requirement for participants in Temple's Los Angeles Study Away program.
"Over the years, Goldenberg has shared his successes and experiences with our students," Alter said. "He stands as a role model of a successful and talented individual who is generous with his time and engaged with the education and mentoring of young people."
After arriving at Temple, Goldenberg switched his major to radio, television and film despite his father's wishes that he pursue a career as a doctor. Goldenberg admits that he was reluctant to show his film work to his fellow students until his senior year, when he took an experimental film class. Impressed by his work, the instructor encouraged him to pursue editing.
"It was scary for me," he said. "I wasn't one of those kids making 8mm films in their garage who always wanted to be a director. I came to it late. I was always very shy. I was by no means the star of the class."
After earning a bachelor's degree in 1982, Goldenberg's film editing apprenticeship continued in Los Angeles, where he began to work with Hollywood veteran Michael Kahn, Steven Spielberg's film editor.
"Working with Michael Kahn was my graduate school," Goldenberg said. "He taught me how to take criticism, he taught me methodology and he taught me how to work with high-power people."
Yet decades after leaving the East Coast, Goldenberg acknowledged how his Philadelphia roots prepared him for success in the competitive world of Hollywood filmmaking.
"Growing up in a working-class home, working in my father's deli in Northeast Philadelphia, going to a city school — all that taught me that if you want to get somewhere, you have to work work really hard," he said. "Nothing was given to me. It taught me the value of work."