Five years later, Moulder Center's growth exceeds expectations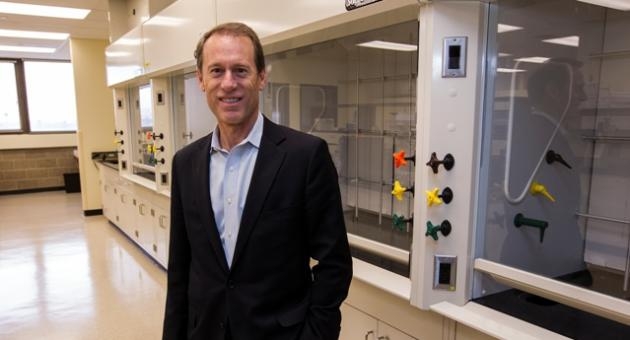 Five years ago, Lonnie Moulder and his wife, Sharon, both 1980 graduates of Temple's School of Pharmacy, were looking for a way to give back to their alma mater, which had been so instrumental in the success of their careers.
"We were in dialogue with Dean Peter Doukas to do something for the school that was new and meaningful, something that would be sustainable over time and something that we were interested in and passionate about," said Moulder, co-founder and CEO of TESARO, Inc., an oncology-focused biopharmaceutical company in Waltham, Mass.
Doukas shared with the Moulders his vision for the establishment of a drug discovery center at the School of Pharmacy and the positive impact he felt it could have, both internally and externally.
"After spending some time with Dean Doukas and listening to his vision, it was obvious that this was something we could become passionate about, and we understood what it would mean for the School of Pharmacy and the university," said Moulder, who was recently named to Temple's Board of Trustees.
Thanks to their support, the Moulder Center for Drug Discovery Research in the School of Pharmacy was created.
Magid Abou-Gharbia, an internationally recognized leader in drug discovery who had spent 26 years at Wyeth Pharmaceuticals and holds more than 350 worldwide patents, was recruited to head the new center.
"Magid has tremendous energy, enthusiasm, vision and a very resourceful network; what a catalyst he was to really kick-start this center," said Moulder.
With the support from the Moulders' gift, an automated synthesis lab for medicinal chemistry and drug design was built on the fifth floor of the School of Pharmacy.
"My vision was to begin the Moulder Center with the strength that is missing from most drug discovery centers, which is medicinal chemistry," said Abou-Gharbia. "Most people focus on the biological component, when in fact new pharmacologically active compounds and new therapeutic agents arise out of the systematic efforts of medicinal chemistry."
Over the past five years, the acquisition of research grants, contracted research and support from the university through the Temple Drug Discovery Initiative in 2010 has infused the Moulder Center and allowed it to grow from Magid Abou-Gharbia and that first medicinal chemistry lab into the Greater Philadelphia region's only fully integrated academic drug discovery center. Today, the center encompasses 10 labs and a staff of 18 people who have more than 130 years experience in the pharmaceutical industry with such companies as Wyeth Pharmaceuticals, Pfizer, Astra Zeneca, Merck, Proctor and Gamble and Bristol-Myers Squibb.
"The Moulder Center has been expanding physically, but more importantly the capabilities of the center have also been expanded to include screening, molecular pharmacology, biotherapeutics, solid phase peptide synthesis and pharmacokinetics," said Abou-Gharbia.
The center has also established fruitful research collaborations with Temple faculty researchers; premier academic institutions such as Johns Hopkins University, University of Rochester School of Medicine and The Wistar Institute; and with corporate partners, including Cortendo, GVKBio, Shifa Biomedical and Cureveda.
"We really have a lot on our plate," said Abou-Gharbia.
Some of these collaborations have also led to the establishment of intellectual property, which has resulted in three patents being filed and another two are in the process of being filed.
Moulder said it is still early in the life of the Moulder Center, but it has so far exceeded expectations during its first five years.
"The timing was just right for this center to be established," said Moulder. "There has been a transition in the bio-pharmaceutical industry where there are cost constraints and considerations for different business models on how to effectively conduct drug discovery. Many of the largest pharma organizations, and of course small biotech organizations, have had to look outside because they can't build all the capabilities to do drug discovery internally."
Moulder said that only a handful of academic research institutions have the capabilities of the Moulder Center for Drug Discovery Research, which makes it that much more valuable as a resource for the biopharmaceutical industry.
"With the type and quality of the capabilities we have here, the opportunity to leverage that and be a valuable resource — not only in the immediate Philadelphia region but the greater corridor of pharmaceutical and biotechnology companies all along the Northeast and into New England — will potentially establish the Moulder Center as one of the go-to centers to facilitate drug discovery."