Prospective Owls get a taste of Temple at admitted student days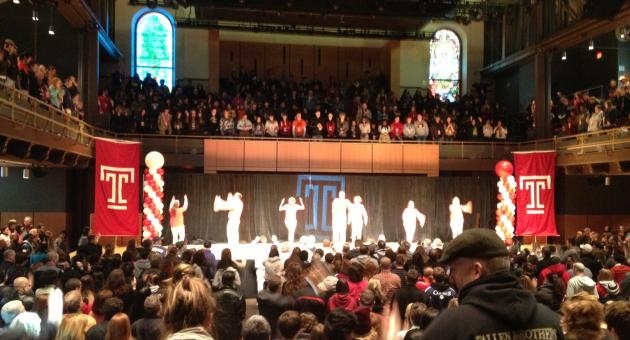 For admitted Temple student Vivian Venegas, the start of the 2013-14 school year can't come fast enough. After visiting Main Campus on Saturday as part of the university's latest Experience Temple Day, the Chicago-area native voiced her anticipation on Twitter in a tweet tagged with the event hashtag #etd2013.
"Can my parents just leave me here? Don't think I can wait another 5 months. "
Such enthusiasm is common among prospective students who attended one of the two Experience Temple Days held in February and March. Open to those already admitted to Temple, the events offer students another look at the university before they decide whether to submit an enrollment deposit and secure a spot in the Fall 2013 entering class.
Each event begins at 9 a.m. with registration and an opening meeting in Mitten Hall and the Temple Performing Arts Center. After being welcomed by President Neil Theobald and hearing academic presentations, students and their families are free to choose from several special interest sessions in areas such as housing, financial aid, study abroad, General Education, Orientation and more. Another session for parents offers an opportunity to ask questions of Temple administrators, parents of current students and alumni. Receptions are also held for top scholarship recipients and students accepted into the university's Honors Program.
Participants get to know campus on tours led by the university's Owl Ambassadors and eat lunch in Johnson and Hardwick Halls' Louis J. Esposito Dining Commons. The events conclude at 3 p.m. 
It's an agenda that has sealed the deal for many aspiring Owls. More than 80 students submitted their deposits while on campus at the past two Experience Temple Days, and Undergraduate Admissions processes numerous others in the days immediately following the events.
A record 4,900 students and their family members have attended the two Experience Temple days held so far, and 2,600 have already responded for the third event to be held on April 13.
"It's hard to explain it to someone who hasn't seen it, but picture 2,000 people on campus doing 2,000 things and super excited to be here," said Niki Mendrinos, senior associate director for campus visit programs and special events. "These kids are admitted, so they're excited."
Mendrinos said this year's high attendance may be due in part to increased exposure generated by the university's new academic scholarship program, the Temple Made campaign and the Owls athletics teams' entry into the BIG EAST conference. But a new factor, she says, is Temple's use of social media. The admissions office has created new Twitter and Instagram accounts, both with the username @AdmissionsTU, to connect with prospective students.
"The point is to push out information about admissions and deadlines for prospective students to get them excited about applying to Temple," said Austin Case, senior admission counselor in the Office of Undergraduate Admissions.
During Experience Temple Day, staffers encourage attendees to take photos on campus and tag them using the hashtags #GetTempleMade and #ETD2013 on Instagram and Twitter. More than 550 images have been tagged at the events, and the admissions social media accounts have added 765 followers as a result.
"The feedback we got via Twitter during the event and after the event was so positive during that day, but we received tweets two days after," said Owl Ambassador Ray Smeriglio. "We got a lot of positive feedback."
— Joseph Schaefer