Army Corps, FEMA will discuss Sandy recovery at EarthFest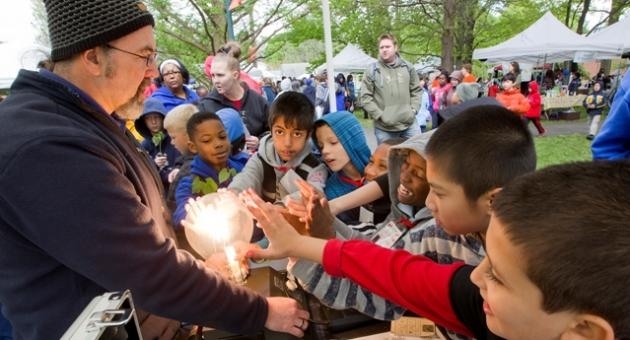 In the wake of the devastation wrought by Superstorm Sandy last October, the U.S. Army Corps and the Federal Emergency Management Agency (FEMA) have been working with state and local governments and families to ensure that the affected communities are safe, sustainable and livable.
Both agencies will advance that mission this month as part of Temple Ambler's EarthFest, the annual environmental celebration featuring nearly 90 exhibits and activity stations that share new ideas and concepts with students, teachers, parents and the public. This year's festival will be held on Friday, April 26, from 9:30 a.m. to 2 p.m. on the Ambler Campus.
Representatives of the Army Corps will discuss their plans to replace sand and dunes on New Jersey and Delaware beaches washed away by the massive storm, which altered coastlines, destroyed neighborhoods and caused power outages lasting weeks. 
"We are feeding the beaches and the sand dune system," said Edward Voigt, chief of public and legislative affairs for the Corps. "The beaches protect the dunes and the dunes protect the communities. Our goal is to get the beaches back 100 percent to the way they were before Sandy. We want future storms to pound our projects, not the communities protected by them."
FEMA's display will feature activities for students young and old focused on identifying flood risk and making better decisions on how to reduce it. 
"We want to expose kids to a lot of new ideas — living compatibly with our world and, specifically, building sustainable communities," said Mari Radford, Mitigation Planner for FEMA's Region III. "Most EarthFest visitors have probably never met someone from FEMA before — we want them to know we are there to help and to make sure families affected by disasters are able to get back to a sense of normalcy as soon as possible."
The agency's connections to Ambler run deep. Both Radford and FEMA mitigation planner Molly Kaput are graduates of Temple's Community and Regional Planning master's degree program. 
"We know the kind of important work that is being done within the program and by the Center for Sustainable Communities," said Radford. "There is a lot of synergy between FEMA's mission and the research being done at Temple — working with communities to ensure they are prepared for the next disaster, that they are able to survive the next flood."
Since its inception in 2003, EarthFest has placed a spotlight on sustaining communities, welcoming thousands of visitors each year. 
"EarthFest has become an essential part of sharing what Temple Ambler does best — promoting environmental stewardship in our communities," said Susan Spinella Sacks, EarthFest coordinator and assistant director of the Center for Sustainable Communities, the event host. "We are able to bring a diverse group of students, educators and exhibitors together each year to celebrate a common cause; then our student visitors do the real work … teaching their peers — and in many cases their parents — how they can ensure sustainable communities. EarthFest plants the seed; it's the students that will make it grow."
For the 10th year in a row, Temple Ambler's key partner in presenting EarthFest is the Pennsylvania Horticultural Society.  Exhibitors will also include the Franklin Institute, the Insectarium, the National Park Service, the Academy of Natural Sciences of Drexel University, the Pennsylvania Department of Environmental Protection, the Elmwood Park Zoo and dozens more.
"EarthFest is a great opportunity to talk to people who may be new to the Zoo and may not be aware of all of the conservation work we do around the world," said Valerie Peckham, Philadelphia Zoo conservation program manager. "We hope that people will want to get involved and work to make a difference because they can affect change."
Contributing sponsors for 2013 include Dow; the Air Quality Partnership - Delaware Valley Regional Planning Commission; the Ellis A. Gimbel Trust; Janet and Lew Klein; New York Life; PECO Energy; the Pennsylvania Chapter of the American Planning Association; the Township of Upper Dublin; and Waste Management.
"The world needs solutions for big challenges like energy, climate change, water, food, housing and health," said Justin Land, Dow's Northeast Public Affairs manager. "There is a critical need to inspire the next generation to take up the call. EarthFest is a perfect opportunity to connect with more than 6,000 students who are eager to listen, learn and make a difference."
For more information, visit www.ambler.temple.edu/earthfest.