President discusses Temple's impact, vision with city business leaders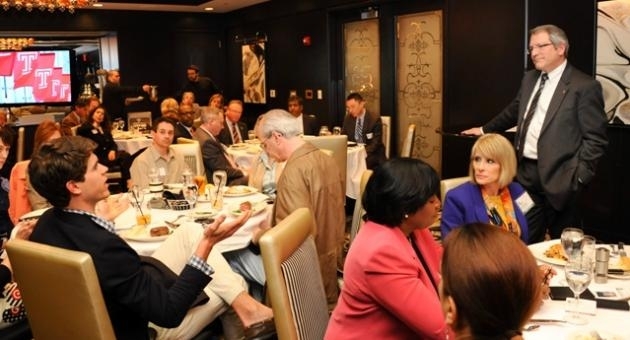 Philadelphia's competitive edge comes in part from its meds and eds — the concentration of medical centers and research universities across the region.
In remarks at a luncheon gathering of Center City Proprietors Association (CCPA) members, Temple University President Neil D. Theobald funneled his priorities to advance a single goal: Sharpening that edge.
"We have an unwavering commitment to the progress of Temple and the city that we serve," Theobald said, adding, "Good enough isn't good enough."
As "Philadelphia's public university," Temple seeks to further enhance its research excellence — including robust efforts in translational and interdisciplinary collaborations — while teaching large numbers of students from the Philadelphia region and beyond. Universities exist, Theobald said in quoting philosopher Alfred North Whitehead, to create the future.
For Greater Philadelphia, Temple does that in big ways. Theobald said 83 percent of the university's 2012 graduating class stayed in the five-county region, and 25 percent of regional lawyers and nearly half of dentists hold Temple degrees.
In remarks and a question-and-answer session at Morton's The Steakhouse with about 50 members of CCPA — a 35-year-old nonprofit serving Philadelphia's small-business community — Theobald emphasized Temple's efforts to control student debt, which he called the most important issue in higher education.
He outlined a "comprehensive set of actions" to reduce debt burden: holding down costs and fees; introducing a decentralized budgeting model that puts more authority and accountability at the school and college level; promoting four-year graduation plans; and enhancing financial literacy among students and their families. Theobald also emphasized the importance of internships as a way for students to become "real-world ready" upon graduation.
Focusing on these efforts, Theobald said, will ensure Temple is "within the reach of every qualified student. That's the goal in the end."
M. Moshe Porat, dean of the Fox School of Business and School of Tourism and Hospitality Management, introduced the president, and the schools served as sponsors. Greg DeShields, managing director of business development for both schools and a CCPA board member, facilitated the event.
"We're very concerned about what's happening in the city business-wise, and as Neil said, you're such a huge contributor to the workforce in the city," CCPA President Linda Karp said of inviting Theobald to the organization's ongoing Lunch with the City's Leaders series. "We want to hear where (Temple is) going. We care about what's happening on North Broad Street."