Career success is a slam dunk for motivated STHM grad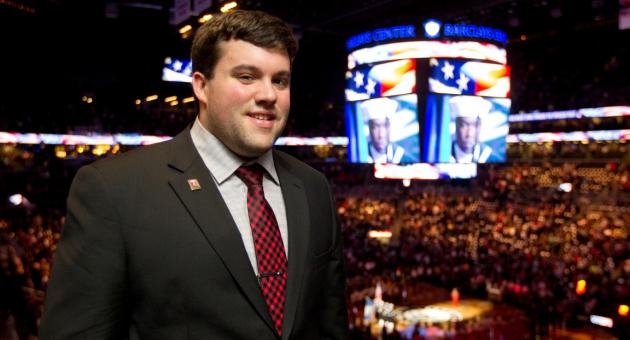 Colt Dorsey's senior internship with the Brooklyn Nets is a testament to networking.
He met Zachary James, THM '08, the Nets' manager of business development and premium all-access manager, two years ago and maintained contact. Thanks in large part to James, Dorsey stood out this semester among the team's 40 interns. He was one of only three or four full-timers, one of four from Pennsylvania — and the only one interning in VIP Services.
Originally from Fredericksburg, Pa., Dorsey attended Bloomsburg University his freshman year and went to Harrisburg Area Community College as a sophomore before transferring to Temple, drawn to the School of Tourism and Hospitality Management's sport and recreation management program. He and three classmates co-founded the Sport Marketing Association of Temple, now 30 members strong. But for Dorsey, that was just the beginning. 
Dorsey interned during his junior year with Global Spectrum in business development and client relations. He has also interned with the Philadelphia Flyers in game-night presentation and with the Philadelphia Eagles in mascot marketing, which involved organizing community events and pep rallies featuring Swoop, cheerleaders and former players.
His Nets internship — which coincided with the franchise's first season in Brooklyn after moving there from New Jersey — included a senior project to explore the benefits and challenges of potentially implementing a paperless ticketing system for season-ticket holders.
Dorsey said the Nets staff welcomed him and his fellow interns from day one, pushing them to perform and welcoming them like family. Executives even hosted weekly lunch-and-learns.
"Hearing their stories makes you want to be in their spot even more," Dorsey said. "When talking to these people, it pushes me even harder."
Thanks to years of pushing himself at Temple to gain real-world experience — going beyond the School of Tourism and Hospitality Management's requirement of junior and senior internships — Dorsey got his break in the business. He's secured a business development ticket sales position with the Miami Dolphins starting in June.
"I'm really excited about this position since it's in the league that I ultimately wanted to work in, the NFL," Dorsey said. "And it's in South Beach, so I don't have too much to complain about."