Immersion program is a window to the world for Spanish major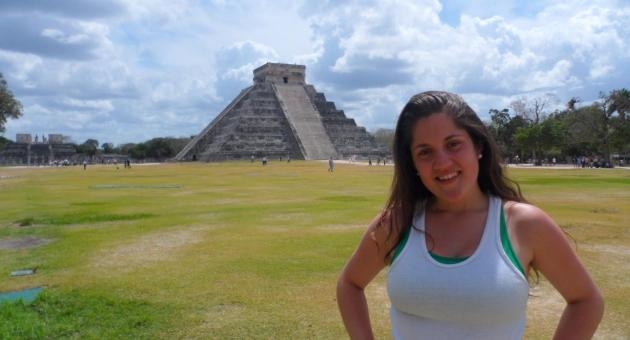 While cave diving in Mexico, Temple senior Rachel Aistrop had an epiphany.
"I was in pitch black darkness; I was scared and uncomfortable. Then I started listening to the tour guide's description of the underground Mayan pyramids and temples we were about to see, and I embraced that moment," Aistrop said.
"I was with my 30 closest friends — I knew I was where I belonged," she said.
For Aistrop, that experience serves as metaphor for her entire Latin American Studies Semester (LASS) at Temple. LASS is a 15-credit, total immersion, interdisciplinary program offered each spring semester. It is designed to teach students to speak Spanish, or to greatly increase their fluency, in one semester. The course meets daily from 9 a.m. to 3 p.m. and, in addition to learning the language, students study all aspects of Latin America through social science, literature and film. The highlight of the program is a two-week, Spring Break trip to Mexico's Yucatan Peninsula during which students live with host families.
"We were all scared, awkward and unsure of ourselves when we started LASS. But we got through it together," said Aistrop, a Spanish major and Latin American studies minor who is not a native speaker of Spanish.
"Now the students I went through LASS with are my best friends to this day. They provided the support I needed then and they still do," she said. "Some of us go salsa dancing almost every week."
Aistrop transferred to Temple after two years at Indiana University of Pennsylvania. At first, the Philadelphia native and Cheltenham High School graduate felt a little lost on Temple's big campus.
She says enrolling in LASS was the best thing she ever did. Not only did Aistrop find lifelong friends in the students who participated, she also gained the opportunity to serve as a Diamond Peer Tutor for an LASS course taught by Hiram Aldorando, director of LASS, during her senior year. 
"It's rewarding to be able to help other students go through what I went through in being asked to conduct all of my college classes 100 percent, totally and completely, in another language," she said.
Aistrop says the language skills she developed at Temple have opened a lot of doors and helped her clarify some goals for her future.
Following graduation, she has accepted a position as an Immigration Outreach Coordinator with Americorps Vista. After that, Aistrop plans to pursue a master's degree in public health and establish a career working with humanitarian organizations on issues that impact Spanish-speaking immigrant communities.
"Majoring in Spanish was my mom's idea. And it turned out to be a perfect fit."