Solving community problems is planning grad's passion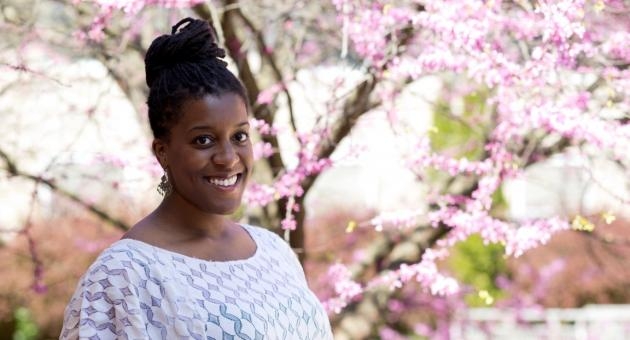 It takes a certain confident "jump in feet first" attitude to apply for the coordinator position of Bike Temple when you have only rarely touched the pedals of a bike.
Community and Regional Planning Master's degree student Lindsey Graham simply saw it as another challenge.
"I had been on a bike maybe four times in my adult life — I was no bike rider — but I applied because I have a passion for transportation planning," said Graham, 27, who will be the School of Environmental Design Graduation Ceremony Student Speaker on May 16. "In 2011, I decided to take a chance and really learn how to ride a bike in the city. I took Bike Temple's Urban Riding Basics course and it truly changed my lifestyle. Now I try to influence all of my friends to get comfortable on the road — Philadelphia is a very bikeable city."
Graham traces her fascination with transportation planning to family trips along I-95 from Connecticut to North Carolina, which ignited an interest in maps and cartography, and long commutes to North Carolina State, which fueled a desire to fix transportation systems that needed a helping hand. 
One day, she said, she woke up and wanted to live in a big city. New York? Too big. San Francisco? Too far away. Philadelphia, she said, "had the great history, culture, and people" that she was looking for. It also was the perfect avenue to explore professional planning and urban transportation systems.
"When I discovered planning as a career, I recognized the real impact I could make on communities. Everyone uses some form of transportation — every community is facing transportation challenges," she said. "People live in their cars — we're a very car-oriented society — but there are so many other options to explore."
During her time in Philadelphia, Graham said, she has seen a marked increase in bicycle commuting and public transportation use. At the same time, miles traveled in individual vehicles is also on the rise, she said.
"Transportation planning is a booming field and I'm ready to get my hands dirty. I'm looking forward to getting in there, shaking things up and working with people to solve their problems."
Working to solving community problems is what Graham is most passionate about, she said. Her studio class — a mix of graduate and undergraduate students — worked with the Montgomery County Office of Aging and Adult Services to develop plans to help the elderly age in place — to live in at home independently and comfortably at any age, income or ability level. 
"This project has been a terrific experience as it's allowed me to really step out my comfort zone and explore planning from different perspectives," she said. "This is a project that I feel could be taken and used to make a significantly positive impact on our communities."
Graham, was recently named a semi-finalist for the Presidential Management Fellows program, a prestigious two-year paid government fellowship that provides the opportunity to work with a variety of United States government agencies. The rigorous selection process includes hours of interviews, tests and assessments, which take place in Washington, D.C.
"I've been consistently impressed with Lindsey's passion for planning and her commitment to developing her skills," said Deborah Howe, chair of the Department of Community and Regional Planning. "She's taken the initiative to really pursue every avenue to become an effective planner. She has a profound commitment to making a difference in society, and I know that she will."
Graham was the third Presidential Management Fellows semi-finalist from Temple's Community and Regional Planning program in three years — an almost unheard of accomplishment among planning programs in the country.
"My dream is to work in federal government; to become Secretary of Transportation. I want to aim high — maybe the head of a major authority or planning firm of a metropolitan planning organization like the Delaware Valley Regional Planning Commission," she said. "You never take your eyes off of that dream. There are times you're going to want to give up, times you question what you want to do, but as graduate students we are here because we want to be here. Stay calm, focused and always move forward."