NASA robotics program is summer destination for Temple engineering grads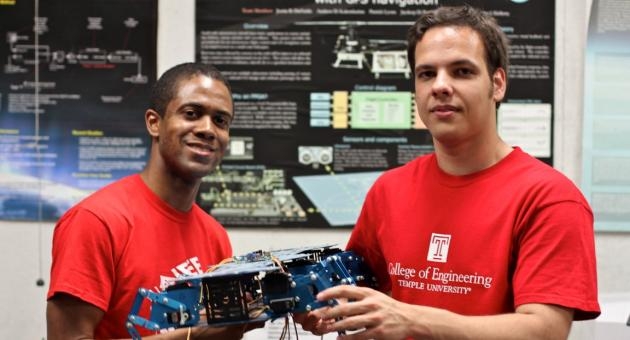 As sophomores, engineering students Vadim Linevich and Andrew Powell both became involved in the NASA-funded Student Space Exploration and Environmental Systems Laboratory (SSEESL) in Temple's College of Engineering. The lab offers students a chance to work on diverse projects involving robotics, quad-copters, sub-orbital payload design and high altitude ballooning.
As a result of their experience, the two graduating seniors applied and were accepted into the prestigious and highly competitive NASA Robotics Academy and will spend 10 weeks this summer at NASA's Marshall Space Flight Center in Huntsville, Ala.
NASA holds robotics academies at two of its facilities: the Marshall Space Flight Center and Ames Research Center in California. Typically, only a dozen students are accepted into each.
"This is almost unheard of for two undergraduates from the same school getting into the robotics academy at the same time," said Temple Electrical and Computer Engineering Associate Professor John Helferty, who is also director of SSEESL.
Although Linevich and Powell worked in the same laboratory, the two took different routes to landing the NASA internship.
Linevich, 21, a mechanical engineering major, spent three years on the lunabotics team, which competes in a NASA-sponsored competition to design and build a lunar mining robot.
"During spring break, I had the opportunity to participate in this online career fair exclusively for lunabotics team members," said Linevich, who was born in Belarus and moved to northeast Philadelphia nine years ago. "I was very fortunate to speak with someone from NASA who told me about this amazing internship."
"The competition was very fierce," Linevich said. "I was over the moon when I heard I was one of the few people who got admitted. If I didn't have the lunabotics experience, I don't think I would have been considered."
Powell, 22, learned about the internship at the last minute through a forwarded e-mail from the National Society of Black Engineers.
"I saw the e-mail and took the initiative right away," said Powell, an electrical and computer engineering major who helped design and build a quad-copter through SSEEL and is part of a senior design team building an autonomous lawnmower. "I spent the whole weekend preparing my application, which included a letter of recommendation, your resume and two essays."
He was surprised when he got a phone call from NASA in early March telling him he had been accepted.
"Something I said in one of my essays obviously got someone's attention," said Powell, who is from Bethlehem, Pa. 
At the NASA Robotics Academy, Linevich and Powell will work as part of the same team on a research project titled "Next Generation Solar Sailcraft." In addition to lab work, they will take part in special seminars and workshops and visit off-site aerospace companies and other research facilities. The two are looking forward to gaining more knowledge and hands-on experience in the emerging robotics field from top researchers.
"One of the aims of the robotics academy is to help young people gain technical experience in a world-class laboratory," added Powell. "We'll be getting robotics experience in an environment where a lot of important researchers have already made their mark."
While neither knew that the other had applied, both Linevich and Powell believe that having someone they are familiar with in the academy will be a big advantage. They will also be carpooling while in Huntsville.
"(Andrew) is a very smart and talented individual," said Linevich. "I'm sure we'll make a great team because we know each other."
Following the summer internship, both graduates will return to Temple in the fall to pursue advanced degrees.
Powell has received a Temple Future Faculty Fellowship to pursue a Ph.D., while Linevich is part of the five-year master's program in which he has already taken graduate courses that apply to both his undergraduate and graduate degree.
But if the internship were to lead to a job at NASA, Linevich admits he would be unable to say no.
"That would be a dream comes true, because I love what NASA does," he said.