Anderson appointed dean of Temple's College of Education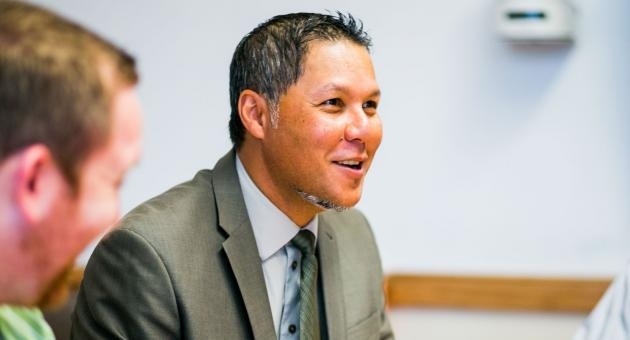 Temple University President Neil Theobald has announced the appointment of Gregory M. Anderson as the dean of Temple University's College of Education.
Anderson, who has served as the dean of the Morgridge College of Education at the University of Denver since 2009, will assume his new position on July 1, 2013.
"Gregory Anderson's combination of experience and vision has prepared him to lead Temple's College of Education — a national leader in teaching and research — at a critical moment for education in the city, the state and the nation," said President Theobald. "The College of Education's future is bright, and its graduates have never been more in need."
"With his breadth of experience and demonstrated accomplishments at a top academic institution, a non-profit organization with a social mission and an up-and-coming education graduate school, Gregory Anderson will provide the leadership that can help the faculty and the university meet the challenges of tomorrow," said Temple Provost and Senior Vice President for Academic Affairs Hai-Lung Dai.
"I am honored to join Temple University and have the privilege to lead its College of Education," Anderson said.
"I have great appreciation and respect for the senior leadership of the University and the College of Education's nationally distinguished faculty, its exceptional staff and diverse student body," he continued. "I am excited to contribute to what promises to be a transformative period in the university and college's revered history and pledge to lead with integrity, responsibility, passion and vision."
Anderson has been the dean of Denver's Morgridge College of Education since July 2009. In less than four years, Anderson has led the College to national recognition. He has supervised the completion of a new $21.4 million facility, introduced new department structures, degree offerings and a comprehensive faculty governance system, while sustaining and enhancing community, district and government partnerships in Colorado. During his tenure, Anderson spearheaded a major transformation of the college's faculty and student body, resulting in 20 new faculty hires, including four endowed chairs/professors, and significant increases in enrollments and tuition revenue. Under his leadership, Morgridge College's student body and faculty have become the University of Denver's most diverse among graduate units and its largest single producer of sponsored research grants in 2012-13.
Anderson served on the Colorado Governor's Early Childhood Leadership Commission, the board of directors for the Institute for the Study of Knowledge Management Education; and on the board of trustees of the Colorado Legacy Foundation. He also served on the Expanded Learning Opportunities Commission for the Colorado Department of Education and the Global Cities Education Network representing Denver alongside the Superintendent of Denver Public Schools.
Before joining the University of Denver in 2009, Anderson was an associate professor at the Program in Higher and Postsecondary Education at Columbia University's Teachers College. In 2006, Anderson was granted an extended leave from Teachers College to become the higher education policy officer in Educational Opportunity and Scholarship programs at the Ford Foundation in New York. At Ford, he was responsible for overseeing one of the largest portfolios at the foundation featuring both international and domestic higher education grants. Anderson also sat on the foundation's executive committees of multi-foundation partnerships and foundation-wide initiatives involving the United States, Africa, Central and Latin America and Asia. In 2008, he was appointed by the vice president of the foundation's Knowledge, Creativity and Freedom Program Division to lead a strategic planning team responsible for developing a new vision guiding U.S. and international higher education programming.
Anderson's appointment follows a national search led by consulting firm Isaacson, Miller and a search advisory committee comprised of Temple faculty, students and administrators.
"Dr. Anderson's budgetary knowledge and global views on academic issues will be assets to Temple and the College of Education," said Search Advisory Committee Chair Keya Sadeghipour, dean of Temple's College of Engineering.
Provost Dai thanked James Earl Davis, who has served as interim dean of the College of Education since November 2010.
"James is a highly regarded member of our faculty," said Dai. "It is because of his strong leadership as interim dean that our College of Education has continued to flourish in the last 32 months."
Temple's College of Education is a national center of excellence in both teaching and research with two departments: one focusing on K-12 education and the other on psychological, organizational and leadership studies including higher education, psychological practices in education and adult and organizational development. With more than 60 faculty members, more than 1,300 undergraduate students and nearly 600 graduate students, the college has a history of strong collaboration with the School District of Philadelphia and is the largest supplier of teachers for the region and the state. New faculty hires in recent years have increased the college's research profile, bringing externally funded research expenditures to $9 million in 2012. The college's graduate programs are ranked No. 47 in the 2014 U.S. News & World Report Best Graduate Schools rankings.