Temple social work student shows others there is life after incarceration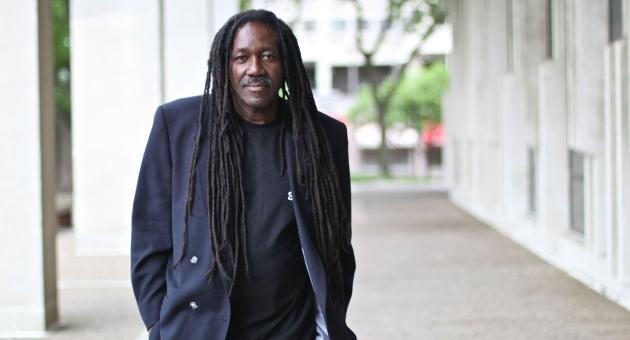 J. Jondhi Harrell sat in his jail cell at the United States Penitentiary at Lewisburg, Pa., contemplating his future after receiving a sentence of 20 years for bank robbery.
"I decided that every day I spent in prison would be a productive day," said Harrell. "I decided to search out those in prison who were intelligent, focused and intent on changing their lives."
Harrell was determined to commit his life to constructive pursuits, serving his sentence one day at a time. He volunteered to work with other inmates, mediating disputes, counseling and teaching what he could.
Harrell soon crossed paths with Mutulu Shakur, an activist and stepfather of rapper Tupac Shakur sentenced in 1986 under the Racketeer Influenced and Corrupt Organizations Act. He would become Harrell's mentor.
"In my estimation, he is one of the foremost political prisoners in this country," said Harrell. "He's taught hundreds, if not thousands, of young men to change their lives, transform their thinking and go back out into the street to accomplish things in the community."
For 12 years, in three different prisons, Harrell assisted Shakur in his teachings. He worked with Crips, Bloods, Vice Lords and other gang affiliates who wanted to change direction and become a positive force in society. He began teaching parenting classes, cultural workshops and General Educational Development courses. And he visited cell blocks to teach inmates embarrassed by their illiteracy.
"If I could work with the toughest and most intense guys in the federal system and help them transform their lives, then it would be relatively simple to come home and help others," said Harrell.
After serving 18 years of his sentence, Harrell was released from prison early and admitted into a halfway house. He immediately sought to continue his education, but learned that halfway house regulations prohibited his entry into college.
A failure to find employment could necessitate Harrell's return to prison. And with an associate's degree and an 18-year gap in his work history and stringent halfway house requirements, Harrell said his search for work was nearly impossible. Finally, he was offered a position through Goodwill Industries' Re-Entry Program for former inmates.
Upon release from the halfway house, he began pursuing his bachelor's degree online through the University of Phoenix, completing the degree in June, 2012.
"Education was important to me because it gives greater weight to the things I'm saying," said Harrell. "I clearly see that guys who spend their time educating themselves do far better than guys who wing it."
A month after receiving his bachelor's degree, he enrolled in Temple's College of Health Professions to pursue a master's degree in Social Work.
"I applied to Temple and they accepted me for the fall," said Harrell. "From the time I walked in the door for the first orientation session, I felt welcomed and at home. I never felt any discomfort or fear or anything that would inhibit me being at Temple."
The lessons he learned about re-entering society after serving prison time have made him a tireless advocate for former inmates. With two friends, he formed The Center for Returning Citizens (TCRC) to provide returning citizens with access to employment networks, housing and other services. He hopes to build the non profit into a national model for assisting former offenders returning home.
In recognition of his accomplishments, Harrell was named Goodwill Industries International's 2013 Kenneth Shaw Graduate of the Year, which honors an outstanding graduate of Goodwill's career program who has become employed outside of the organization. Harrell will receive the award at an annual delegate assembly meeting this month in Grand Rapids, Mich.
"For people coming out of prisons and jails, it takes more than a strong desire to be relevant in today's workplace," said Jim Gibbons, Goodwill president and CEO. "It takes a well-integrated system of services and someone willing to hire people with criminal backgrounds. Harrell is an individual who turned his life around and is paying it forward by helping others."
"I work hard, I research and I love to study," said Harrell. "I plan on completing my masters and moving forward with my Ph.D. and eventually being a professor. I have lived in North Philadelphia since I came home from jail, and I think that Temple is a major part of North Philly. I enjoy being a part of the Temple family."