Ballroom dancing competition at Temple aims to foster civility, social skills among elementary students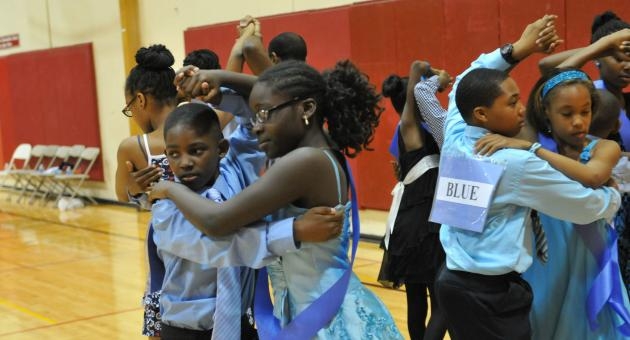 Kelly and Massa Photography
On a Saturday afternoon in June, while most children were enjoying a day off from school, more than 100 elementary students from across Philadelphia gathered in McGonigle Hall to foxtrot, tango and mambo.
With a little more than an hour to practice before the Colors of the Rainbow team match challenge began, several students took to the floor to practice their award winning steps while others got into costume and adjusted their hairstyles.
Before the competition began, Germaine Thompson, a student from Pan American Academy Charter School took to the floor to show off some fancy footwork in front of the competition.
The fifth-grader said he was shy when he started the program but has grown to love dancing with his classmates.
"It was a little funny at first, but it helps us get along and make decisions," Thompson said. "You really have to pay attention to the details."
The program isn't just about dance, said Bess Witcosky, artistic and education director of Dancing Classrooms Philly.
"Dancing helps transform kids into ladies and gentlemen with a set of behavioral skills and social graces that will carry over into all aspects of their lives, giving them the confidence and self-esteem needed to compete in the real world," she said.
Originally based in New York, the Dancing Classrooms non-profit gained national recognition after students enrolled in the New York City-based American Ballroom Theater's program were featured in the 2005 documentary Mad Hot Ballroom.
Dancing Classrooms Philly launched in September 2007 as a vehicle for teaching civility and respect for self and others. In addition to teaching the discipline that dance requires, the program seeks to address the rise of obesity and Type 2 diabetes among school-aged children.
To date, Dancing Classrooms Philly has reached nearly 8,000 Philadelphia fifth-graders in hundreds of public, charter and Catholic school classrooms.
This year's Colors of the Rainbow competition was sponsored by Temple's Office of Community Relations.