Library resources are revealed in new Curated Stacks exhibit at Temple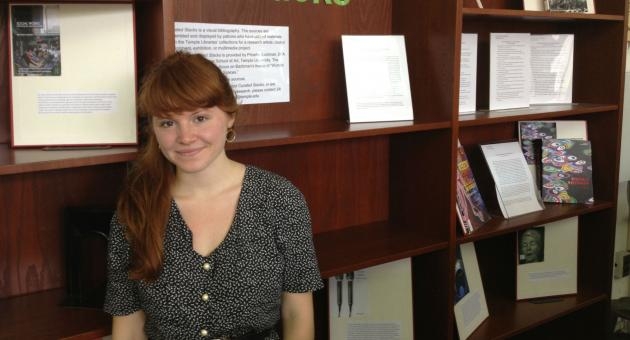 The next time you visit Temple's Paley Library, be sure to stop by the Curated Stacks — a new library feature that allows patrons to display their research sources and methods in a creative and nontraditional format.  
Located on the main floor near the New Books section, the exhibit is curated and installed by library users who have foraged materials found in the Libraries' collections for a research article, course assignment or multimedia project.
"A student approached me with the idea for having students self-curate portions of the stacks as they performed their research," said Jill Luedke, art subject specialist at Paley. "I think the Curated Stacks exhibit is a great way to introduce the greater campus to what goes on behind the scenes and how students are using the library, beyond just checking out books or using the databases."
The current Curated Stacks display is based on materials assembled by Phoebe Bachman, a sculpture major at Tyler School of Art. Bachman received a Temple Diamond Research Scholarship to study women making activist art in public spaces. Her work culminated in a research paper and a presentation at Temple Gallery.
But Luedke was interested in bringing Bachman's work to a different audience:  She wanted to create a visual bibliography of the project for library patrons and scholars.
"This is a way for folks to interact with materials they may not otherwise encounter," said Luedke. "Curated Stacks is a sort of a visual representation of the research process."  
Along with book covers from sources she used in completing her research, Bachman displays photocopies of articles, including material from Paley's Special Collections, in her exhibit.  The exhibit also features a complete bibliography and a description of Bachman's project.
"The purpose of the stacks is to provide a visual display of a bibliography for students, but to also reference things or research topics students may not have thought of before," said Bachman. "It's a way for students to see what other students are working on and perhaps find something that might pique their interest or inspire them in their own work."