STEM programs are focus of summer camp programs for youth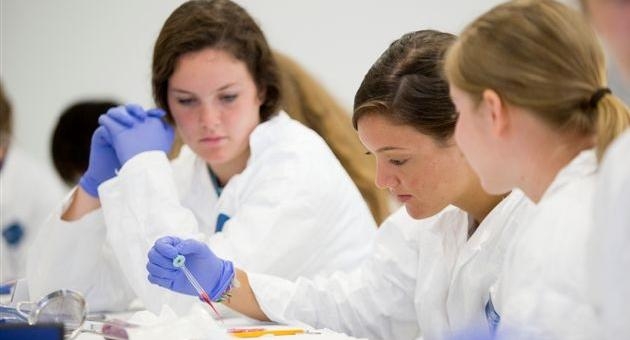 According to the U.S. Department of Education, only 16 percent of American high school seniors are proficient in mathematics and interested in a career in a STEM (science, technology, engineering and math)-related field.
To help address this gap, Temple held a variety of camps and programs this summer designed to build interest and enhance STEM skills among middle and high school students. The programs covered everything from using computers and math to manage logistics, to math and engineering for girls, to building autonomous robots, to creating apps that address community challenges, to meeting a former astronaut who has walked in space.
"Poor math performance in middle and high school is undermining American children's ability to pursue college level engineering and science courses," said Temple Director of STEM Education, Outreach and Research Jamie Bracey.
Bracey, who also directs the Pennsylvania MESA (Mathematics, Engineering and Science Achievement) initiative in Temple's College of Engineering, partnered with the U.S. Navy's NAVSUP Weapon Systems Support to create the Logistics, Acquisition & Supply System Operations (LASSO) Summer Camp — a two-week camp for high school students held at Temple.
Developed at Temple, the LASSO camp was also held at three other MESA institutions: Morgan State University in Baltimore, Chicago State University in Chicago and New Jersey Institute of Technology in Newark, N.J.  The Navy plans to sponsor Temple LASSO camps in another 15 cities next summer.
"We felt that Temple could lead a partnership with education and industry experts to approach high school math in a fun, relevant way," said Bracey, who hosted 120 students in the LASSO camp. "We used the former kids' show "Where in the World is Carmen San Diego" as inspiration, but we anchored math in Navy logistics, history and geography to teach kids how math moves things around the world."
Mathematics Professor Irina Mitrea was director of the College of Science and Technology's Girls and Mathematics Program, a week-long camp that introduced 50 fifth through eighth grade girls to mathematical concepts beyond what they would normally learn in their schools.
The Girls and Mathematics Program, along with the College of Engineering's week-long Women's Engineering Exploration (WE2) summer program for high school girls, are designed to break down the traditional male-dominated barriers of math and engineering.
"Research has shown that it is at the middle school level that girls turn their attention away from mathematics and to other fields," said Mitrea.  "The Girls in Mathematics program is designed to encourage an interest in math for the future."
For the seventh consecutive summer, the College of Science and Technology hosted the ExxonMobil Bernard Harris Summer Science Camp. The two-week camp is run by Chemistry Professor Susan Jansen Varnum and features a half-day visit by former astronaut Bernard Harris, the first African-American to walk in space.
"The benefit of these camps is best expressed by the kids," said Varnum, who also runs the Greater Philadelphia STEM Center Summer Camp. "We had several kids in the ExxonMobil Bernard Harris camp who said they learned more science in the two weeks of our summer camp than they learned all year in school. We also had kids from the first camp begging to go to the second camp."
Varnum, who could be spending her summers in her lab doing research, said she finds working with the kids in the summer camps is inspiring. "Maybe it's selfish, but it is the fountain of youth for me," she said. "You spend two weeks with these kids and it's energizing," she said.
These five camps, along with others such as a robotics camp for high school students run by John Helferty, associate professor of electrical and computer engineering, and the Urban Apps and Maps Studios and Building Information Technology Skills (BITS) summer programs, in which high school students are developing mobile apps, are providing middle and high school students with the opportunity to have a positive experience in math, science and engineering, said Bracey. And those experiences are extending beyond summer vacation through MESA, Varnum's "Watts Up" community program and Navy afterschool program and the Urban Apps and Maps Studio.
"The reason Temple's summer camps and programs are so powerful is that we can offer a child a summer experience in the ExxonMobil Bernard Harris Summer Science Camp and then they can come back to Temple and have a year-long experience in Temple MESA, either after school or on Saturdays," said Bracey. "The continuum of learning contributes to identity formation, and we believe that's what will motivate them to persist in STEM."