The next wave: a record-breaking class of new students
Class of 2017 is most academically qualified in Temple history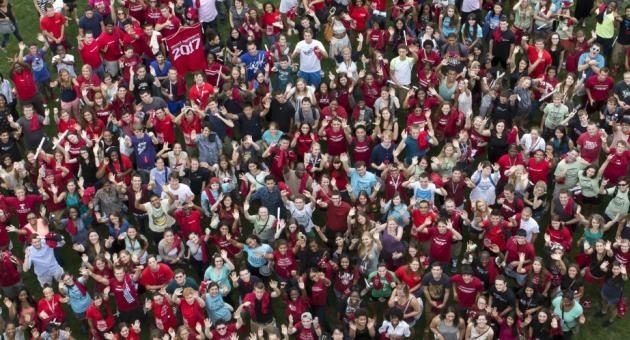 The new students have arrived, and they're record breakers.
With the official end of the annual admissions cycle less than a week away, Temple University's Office of Undergraduate Admissions is projecting that this year's class of freshmen and new transfer students is not only one of Temple's largest — it's the most academically qualified class of new students in the university's history by a wide margin.
Nearly 7,100 new undergraduate students are projected to be enrolled for the 2013-14 academic year after Sept. 9, the last day to drop courses, including nearly 4,400 freshmen (the largest freshman cohort in five years) and about 2,700 transfers.
The Class of 2017's academic credentials will shatter previous records. The Office of Undergraduate Admissions estimates that the average SAT score of Temple's freshman class will be 1129 — 20 points higher than last year's average, 119 points higher than the national freshman average and 137 points higher than the most recent Pennsylvania average. The projected average high school grade point average of Temple freshmen, 3.44, also will top the previous record. Another indicator of the class' stellar qualifications, freshman enrollment in Temple's Honors program, reached unprecedented levels (see sidebar).
The most qualified class in Temple's history also is among the university's most diverse. About 37 percent of new students self-identify as something other than white. The number of new African-American undergraduate students increased by 7 percent compared to last year, and the number of new Latino undergraduate students increased by 18 percent.
More than 3,460 Temple freshmen, or about 79 percent, are Pennsylvania residents, of whom nearly 890 are from the City of Philadelphia (up nearly 4 percent compared to 2012). Undergraduate Admissions also reported a spike in new international students. About 350 new international undergrads from 46 different countries are projected to enroll, a Temple record and an astonishing 39 percent increase over last year's total. More than half of the new international students are from China, with Kuwait and South Korea also providing more than 20 new students.
This year's admissions cycle also broke records for visitors, with 41,160 prospective students and their families visiting Temple in 2012, 3 percent more than 2011's all-time high. The annual number of admissions-related visitors to Temple has increased by 50 percent since 2006. Attendance at events for admitted students, such as Experience Temple Day, also topped previous highs.
Temple, it seems, is a hot school. But what's driving the dramatic, parallel surge in indicators such as academic credentials and diversity? Undergraduate Admissions officials credit new merit scholarship packages and summer stipends, the success of the Temple Made marketing campaign, the appeal of Philadelphia — and perhaps most of all, perceptions of Temple's academic quality.
"The word out there is that Temple is on the rise," said Alexander Kluka, a freshman in Temple's College of Engineering from Aston, Pa., who was attracted by Temple's new merit scholarships, its urban location, its study abroad programs and the Honors Program. "Just in my short high school career, people talk about Temple more and more. I think a lot of it is academic reputation."
Rebecca Lundy, a freshman voice performance major in Temple's Boyer College of Music and Dance from Glastonbury, Conn., learned about Temple by entering four words in a Google search: "best universities for singers." Temple and Boyer, she saw, appeared on every list. But reputation wasn't Temple's only appeal.
"I wanted to be in a city," Lundy said. "Cities are cool and fun. As an artist, cities are appealing because they're cultural centers, with big museums and performance spaces. I'm aiming for a career in opera, and cities are great for networking, especially in the arts."
Sarah K. Grimes, a freshman kinesiology major in the College of Health Professions and Social Work (CHPSW) from Dana Point, Calif., stumbled upon Temple after completing all her college applications — or so she thought. Intrigued after watching a Temple Made video on YouTube, she started looking into Temple.
"I was looking for a school that had graduate programs in physical therapy," she recalled. "I wanted a school that had resources outside the school itself — partnerships with the community, research opportunities, job shadowing — so that I could prepare myself for a career in my field. After doing a little more research on Temple, I thought: 'This school is amazing!' The physical therapy program is nationally ranked. It's in the city. It has great student organizations....I just had to go visit. So for spring break, I flew out with my mom and toured campus on Experience Temple Day. I could just see myself here."
Sarah's parents took a little more convincing — no surprise, given that their daughter was moving three time zones away. "Sarah going out of state was nowhere on our radar screen six months ago," said Jan Grimes, Sarah's mother. What mattered to her, especially once she was comfortable with campus safety, was Temple's "real-world ready" focus.
"Temple focuses on real-world, hands-on experiences," she said. "There's no better way to prepare for today's future. Temple really stands head-and-shoulders above other schools in that area. After spending the weekend helping her move in, we're confident that she's in the right place to start her journey."