Temple school spirit coming to national TV this week
Students to join "Good Morning America" studios in New York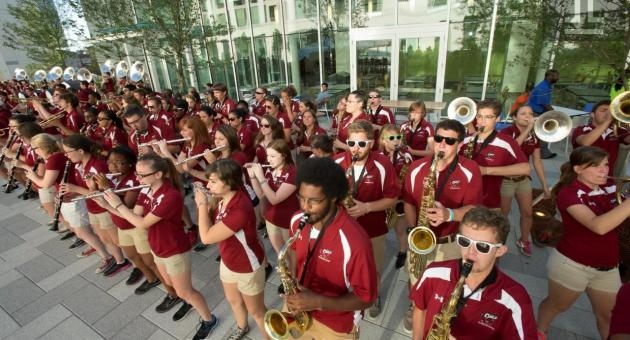 This Tuesday and Thursday from 7 to 9 a.m., Temple "Cherry On" school spirit will be televised across the nation when Temple students join the set of ABC's "Good Morning America" for the morning news show's live "College Week" broadcasts.
On Tuesday morning, Sept. 10, members of Temple's Diamond Marching Band (DMB) are scheduled to play at GMA's studios in New York City's Times Square. Under the direction of Assistant Professor Matthew Brunner of the Boyer College of Music and Dance, DMB will perform pop hits including Robin Thicke's "Blurred Lines" and Justin Timberlake's "Mirrors."
On Thursday morning, Sept. 12, busloads of cherry-clad Temple students will drive up from Philadelphia to join a pep rally outside GMA's Times Square studios. The students — led by members of the Cherry Crusade, Temple's official organization of "die-hard student fans" — hope to bring a taste of the energy they bring to every Temple home football and basketball game.
"This is great for Temple University," said Cherry Crusade Vice President for Marketing Evan S. Feinstein, a junior in the School of Tourism and Hospitality Management who also serves as Temple Student Government's director of university pride and traditions. "We're very proud and excited for this opportunity to show Temple as one of the great universities in the nation."
"Good Morning America" also welcomes Temple alumni and friends who live in the New York metropolitan area to join the crowd at Thursday morning's pep rally outside the GMA studios at W. 44th St. and Broadway. Wear your cherry!
Members of the Temple community are encouraged to tune in to ABC from 7 to 9 a.m. both days (be advised that changes in the news cycle could alter scheduled programming). In the Philadelphia area, GMA can be seen on 6ABC (WPVI).